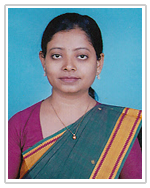 Dr. Neha Shivhare
Assistant Professor
Educational Qualifications : M.Sc. (Physics), M.Ed. M. Phil., Ph.D., JRF-NET
CONTACT
Department of Pedagogical Sciences (Faculty of Education)
Dayalbagh Educational Institute (Deemed University)
Dayalbagh, Agra – 282005 (U.P) India
Tel.: (0562) 280 1545
Email: This email address is being protected from spambots. You need JavaScript enabled to view it. ; This email address is being protected from spambots. You need JavaScript enabled to view it.
Her Research interests span over Systems Approach based learning-teaching, Consciousness and Philosophical Studies, Multisensory Integration based Learning, Innovations in Science Learning-Teaching.
Recipient of President's Medal for securing highest marks in all the Post Graduate Courses at university level (2009-10), Director's Medal for securing highest marks in M.Phil (Education) course, 'Young Systems Scientist' Award by Systems Society of India (Dayalbagh Chapter). She has been a meritorious student throughout her academic tenure.
Published research articles in Journals and Proceedings of International and National repute, chapter in a book published by Springer. Has presented papers and participated in many International and National Conferences, seminars, workshops, symposiums, etc. Presented radio talks on topics related to Systems Approach and Career Guidance.