The Colony of Dayalbagh was established in the year 1915 by His Holiness Sir Anand Sarup, reverently referred to as Huzur Sahabji Maharaj. One of the first functions He undertook was planning for the education of the children in the region.
Dayalbagh started its first educational institution on 1st January 1917, when "Radhasoami Educational Institute (R.E.I.)" was established, initially offering admissions from class 4 to class 8, for both boys and girls. Babu Narayan Das Sahab was the first headmaster and there were 78 students in the batch.
Main Campus: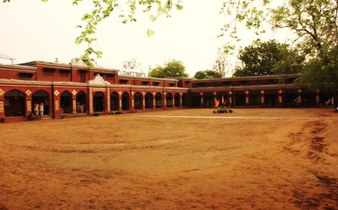 DEI Prem Vidyalaya Primary School was started in Vidhyut Nagar, Dayalbagh in the year 1930, when Prem Vidyalaya was established separately for girls. 
D.E.I. P.V. Primary School today has a beautiful C shaped building painted in red and white. The school has two big adjacent play grounds equipped with swings and slides. The classrooms are big and airy and have custom made furniture. 
Campus 2:
DEI PV Primary School (Extended Wing), ODBS, Sweet Nagar, Dayalbagh was added in April, 2019. 
About Extended Wing: The demand from admission seekers for joining their wards in the Primary School Dayalbagh has been rising over the past several years. In order to accommodate the students, an extension wing has been opened at a short distance from the school building. 
In Extended Wing, our objective is to provide real life and active learning for students, engaging them in a variety of tasks that will develop creative thinking skills, decision making, problem solving and strategising, from a young age, through exploration and discovery using games and puzzles, building blocks, construction kits and a variety activities designed around literature and art, computer education, science and math.
Along with this, a rigorous academic curriculum is followed to teach skills of the three R's , that are needed in the sequence of Education. 
Healthy habits of mind and body, Outdoor physical games and activities, Caring for your school and community, Fieldwork, Serving your community and country, and Respecting your elders are key enduring values we inculcate in our students.  With all this we endeavour to endow a spirit  of Kindness and Truthfulness in our young learners.
Campus 3: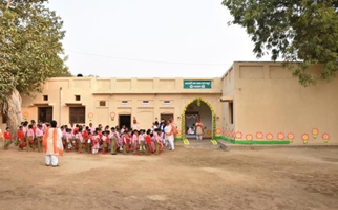 DEI   Radhasoami   Saran          Ashram            Nagar          Primary            School,          Saran                Asharam          Nagar, Dayalbagh was annexed most recently, in March, 2020.
About RSANS: Inaugurated on September 1, 1993, the school was established to provide high quality education in consonance with the other institutions in  Dayalbagh. The school started with the classes Nursery, KG, I and II only. Classes III, IV and V were added in the years 1994, 1995 and 1996 respectively. At present, the school has a beautifully designed L shaped building with big and airy rooms which demonstrates a perfect blend of an old and a new architecture.
The school has a feeder nursery school too in the name of "D.E.I. Saran Ashram Nagar Nursery School" located inside the main school premises.