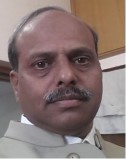 Prof . Prem Kumar Dantu
Professor
Educational Qualification - M.Sc. in Botany (Cytogenetics & Plant Breeding), Ph. D. in Botany (Plant Biotechnology)
CONTACT
Department of Botany
Dayalbagh Educational Institute (Deemed University)
Dayalbah, Agra 282 005 (UP), India
Tel.: (0562) 280 1545
Email: This email address is being protected from spambots. You need JavaScript enabled to view it. ; This email address is being protected from spambots. You need JavaScript enabled to view it.
Prof. Prem Kumar Dantu was awarded his B.Sc. degree in Botany (H), Chemistry and Zoology in 1979 from University of Delhi, M. Sc. Degree in Botany in 1981 from B. R Ambedkar University and Ph. D. in Botany in 1990 from University of Delhi with a marvelous topic "In Vitro Clonal Propagation of Selected Cultivars of Gladiolus grandiflorous". He started his work as a senior scientific officer in Department of Environment Project, Delhi during 1987-1990. Subsequently he worked as a Research Associate in Department of Biotechnology Project, Delhi during 1990-1993. Later he worked as a Production Scientist in Aranya Micropropagation, Delhi during 1993-1997. Further he worked as a Lecturer in University of Delhi during 1997- 2004. Thereafter he joined Dayalbagh Educational Institute (Deemed University) as a reader in 2004 and promoted to Professor in 2012 and Dean (Outreach Agriculture) in 2017. He visited several countries for International Conferences as invited speaker.
He has 30 years teaching experience of graduate courses and 20 years of post-graduate courses.
Courses Taught:
Odd semester
B.Sc. (H) Botany BOM 301 Bryophyta
BOM 503 Plant Physiology
B. Sc. (H) Applied Botany Sciences ABS 102 Principles of Agronomy
ABS 103 Applied Botany Practical
B. Sc. (H) Agriculture SAC 101
AGB 107
B. Voc. Agriculture Technology VAT 105 Soil Testing Practical
VAT 106 Plant Propagation Techniques
VAT 508 Tissue Culture Techniques
B. Voc. Green House Technology VGT 104
VGT 305 Soil Sciences
VGT 309 Practical IV Soil Science
M. Sc. BOM 713 Cell Biology
Even semester
B. Sc. (H) BOM 202 Cell Biology
BOM 402 Biomolecules
BOM 602 Embryology
B. Sc. Applied Botany ABS 201
M.Sc. BOM 812 Plant Metabol. Growth & Develop.
BOM 813 Cell, Tissue Culture & Diff.
BOM 911 Pric. & Appli. of Plant Biotech.
BOM 902
M. Phil. BOM 955 Biotechnology in Plant Industry
Research Interests are:
Reproductive studies in Plants
Molecular characterization of the Germplasms
Studies on extracts of medicinal plants
In vitro regeneration of secondary metabolites
Biochemical and molecular studies on differential production of secondary metabolites
Isolation and characterization of PGPR and Endophytes
Production of salt tolerant Citrus rootstocks
Micropropagation of commercially and medicinally important plants
Studies on dynamics of botanical diversity park
Protected cultivation under green house conditions
Isolation and screening of microbes involved in curd formation.
Isolation and screening of microbes involved in Yoghurt formation.
Isolation and screening of microbes involved in promoting plant growth.
Fodder plants and their biochemistry.
Development of milk products as whey, cheese,
In Vitro Studies: Spatio-temporal origin of shoot buds; production of secondary metabolites; conservation of medicinal plants.
Reproductive Biology: Unitegmic vs bitegmic ovules; embryo maturation; seed abortion
Trichomes: their morphology, histochemistry and molecular profiling
Phylogenic studies of legumes and medicinal plants using protein profiling and molecular markers.
Bioactivity of plant extracts
Endophyte characterization using 16s RNA
Additional contribution to Department of Botany and DEI
SAP Coordinator of the Department.
Established a Herbal Garden with more than 80 species.
Established Biodiversity Park at DEI with more than 150 species.
Coordinator Agriculture Clinic of DEI for benefitting farmers of adjoining villages of Agra.
Research Publications
Dantu, P.K. and Bhojwani, S.S. 1995. In vitro corm formation and field evaluation of corm-derived plants of Gladiolus. ScientiaHorticulturae 61: 115-129.
Dantu, P.K. and Bhojwani, S.S. 1992. In vitro propagation of Gladiolus – optimizing conditions for shoot multiplication. Journal of Plant Biochemistry and Biotechnology 1(2): 115-118.
Dantu, P.K. and Bhojwani, S.S. 1987. In vitro propagation and corm formation in Gladiolus. Gartenbauwissenschaften 52: 90-93.
Srivastava, R., Bhatnagar, V. P. and Dantu, P. K. 2006. Protein mobilization during seed germination in some species. D.E.I. J. Sci. Engin. Res. 13: 13-16.
Dantu, P. K., Meghna, and Kumar, A. 2009. Biotechnological approach to producehealthy clones of the banana cultivar Besarai. D.E.I. J Sci Engin Res 15:67-71
Rani D, Khare PB, Dantu PK. (2010) Antimicrobial Activity of Aqueous and Non-Aqueous Extracts of Fronds of the Three Ferns- Psilotumnudum, Nephrolepisbiserrataand Nephrolepiscordifolia. Indian Journal of Pharmaceutical Sciences72(6): 818-822.
Chaudhary G, Dantu PK (2010) Differential Activity of four Selected Enzymes in thePistils of two Members of the Family Bignoniaceae. Journal of Proteins andProteomics 1: 71-76.
Chaudhary G, Rani D, Raj R, Srivastava MM, Dantu PK. (2011) Cellulardifferentiation in the in vitro raised zygotic embryo callus of BoerhaaviadiffusaL. toproduce the flavonoid, Kaempferol. Chemistry of Phytopotentials: Health, Energyand Environmental perspectives. Springer-Verlag, Heidelberg pg 113-118.
Chaudhary J, Dantu PK (2011) Collection, Establishment, Acclimatization andQuantification of Shatavarin IV in the Medicinally Important Plant – AsparagusracemosusWilld. Chemistry of Phytopotentials: Health, Energy and EnvironmentalPerspectives, Springer-Verlag, Heidelberg pg 87-90.
Chaudhary G, Dantu PK (2011) Morphological, phytochemical and pharmacological,studies on BoerhaaviadiffusaL. Journal of Medicinal Plants Research 5(11):2125-2130.
Chaudhary G, Dantu PK (2011) Investigations into the Morphology, Structure and Enzyme Activity in the Pistils of BoerhaaviadiffusaL. Phytomorphology 61: 62-71.
Chaudhary J, Dantu PK (2011) Phylogenetic Relationships within Selected IndianSoybean (Glycine Max (L.) Merr.) Varieties Based On SDS-PAGE of Seed Proteins.Journal of Proteins and Proteomics 2:23-29.
Rani D, Dantu PK (2012) Direct shoot regeneration from nodal, internodal and petiolar segments of Piper longumL. and in vitro conservation of indexed plantlets.Plant Cell Tissue and Organ Culture 109: 9-17.
Chaudhary Gulshan and Prem Kumar Dantu 2014. Investigations into the Morphology, Distribution and Histochemistry of the Trichomes on Boerhaavia diffusa L. Int Journal of Plant Reproductive Biology 6:129-138.
Dolly, R and Dantu PK 2014 Screening of in vitro antileishmanial activity of extractsof selected medicinal plants. National Academy Science Letters DOI10.1007/s40009-014-0333-5
Rani D and Dantu, P K 2014. Sustained Shoot Multiplication and Method forOvercoming In Vitro Browning in Medicinally Important Plant, Piper chaba HuntProc. Natl. Acad. Sci., India, Sect. B Biol. Sci. DOI 10.1007/s40011-014-0461-1
Rai V, Sanagala R, Sinilal B, Yadav S, Sarkar A K, Dantu P K and Jain A. 2015.Iron Availability Affects Phosphate Deficiency-Mediated Responses, and Evidence ofCross-Talk with Auxin and Zinc in Arabidopsis. Plant and Cell Physiology 1–17doi:10.1093/pcp/pcv035
Mintoo M. N., Rao D.G. and Dantu P. K. 2015. In vitro shoot regeneration from leafdisc cultures Jatrophacurcas, an important biofuel plant. Ind. J. Plant Sci.. 4: 2319–3824.
Dantu P. K., Khaitwar A. and Bhojwani S. S., 2016. Pollen-Pistil interactions:Biochemical and Molecular Insights-A Review. The Intern. J. Plant Repro. Biol.8:.56-64, DOI 10.14787/ijprb.2016 8.1.56-64
Dantu P. K., Arti Yadav and Sapana. 2017. Influence of low temperature treatment and phytohormones on regeneration through anther culture in two cultivars of rice. The Intern. J. Plant Repro. Biol. 9(1), pp.65-66.
Gulshan Chaudhary, Prem Kumar Dantu 2015. Evaluation of callus browning and develop a strategically callus culturing of boerhaavia diffusa L. J. Plant Develop. 22: 47 – 58.
Gulshan Chaudhary, Prem Kumar Dantu 2018 Analysis of some important genes from the trichomes of Boerhaavia diffusa L. fruits by RNA isolation. Euro J Exp Bio 8:1-8
Dantu P. K., Mrinalini Prasad, Anjali Singh, Arti Yadav, Teg Bahadur Singh, Deepika Goyal, Preksha Shrivastav 2018. Analysis for Piperine in leaves, roots and spikes in Piper longum L. J. Pharmac. Phytochem. 7 (6), pp 1008-1010
Books Published
Bhojwani SS, Dantu PK (2013) Plant Tissue Culture: An Introductory Text. Springer, Heidelberg.
Bhojwani, SS, Bhatnagar, SP, Dantu, PK (2014). Embryology of Angiosperms.Vikas Publications, New Delhi.
Book Chapters
Bhojwani, S. S. and Dantu, P. K. 2010. Haploid Plants. In: M. R. Davey and P.Anthony (eds) Plant Cell Culture. John Wiley and Sons Ltd., 61-78.
Tomar, U.K. and Dantu, P. K. 2010. Protoplast Culture and SomaticHybridization. In: G. Tripathi (ed) Cellular and Biochemical Sciences, I. K.International Publishing House Pvt Ltd., New Delhi. 876-891.
Tomar, U. K., Negi, U., Sinha, A. K. and Dantu, P. K. 2010. An Overview of theEconomic Factors Influencing Micropropagation. In: P. Parihar and L. Parihar(eds), Advances in Applied Biotechnology, Agrobios, Jodhpur. 231-240.
Dantu, P. K. and Tomar, U. K. 2010. Molecular Markers – Their Utility andApplication in Forest Trees. In: P. Parihar and L. Parihar (eds), Advances inApplied Biotechnology, Agrobios, Jodhpur. 35-52,
Dantu, P. K. and Tomar, U.K. 2010. Somatic Embryogenesis. Cellular andBiochemical Sciences. (Editor: G. Tripathi), IK International Publishing HousePvt. Ltd., New Delhi, pp. 892-902.
Dantu, P. K. and Bhojwani, S.S. 2004. Secondary metabolite production in planttissue cultures. In: Srivastava, M.M. and Saghi, R. (Ed.) Chemistry for GreenEnvironment, Narosa Publ. House Pvt. Ltd., New Delhi, pp. 425.
Akbar Ali, M. Naeem, Tariq Ahmad Dar, Mohd. Idrees, M. Masroor A. Khan, MoinUddin, Prem Kumar Dantu, and Teg Bahadur Singh 2017 Nutrient Uptake, Removal, and Cycling in Eucalyptus Species Springer International Publishing AG 2017 Essential Plant Nutrients
Membership of Professional Bodies
Life Member, Society for Plant Biochemistry and Biotechnology, IARI, New Delhi.
Life Member, Systems Society of India, Dayalbagh, Agra.
Life Member, International Society for Plant Morphologists, Department ofBotany, University of Delhi, Delhi.
Life Member, Society for Reproductive Biology, Agra.
Member, International Society for Plant Biotechnology (IAPB), St. Louis,Missouri, U.S.A.
Member, International Society for Horticultural Science, Belgium.
Projects Handled/ In Progress
Reproductive biology and in vitro studies on selected lines of some medicinal plants, Funding: UGC, 2007-2010, Rs 9.30 lacs.
Identification of high oil yielding Jatropha plants and in vitro scaling up of selectedlines for increased bio-diesel production;Funding: PCRA (Petroleum Conservation Research Association, New Delhi),2010-2012, Rs 7.50 lacs.
UGC Innovative Programme for PG Diploma on Environmental Biotechnology,2011-2016, Rs 58 lacs.
Courses Introduced
Work Experience Course: Techniques in Cell & Molecular Biology.
Special Paper on Molecular Biology under UGC Innovative Programme in Collaboration with the Department of Zoology. Funding Rs 20 lacs, 2007-2012.
PG Diploma In Environmental Biotechnology under UGC Innovative Programme in Collaboration with the Department of Chemistry, Funding Rs 58 lacs, 2011-2016.
M.Sc. (Botany) with specialization in Plant & Microbial Biotechnology
M.Phil: Biotechnology in Plant Industry
Post Graduate: Plant Biochemistry, Plant Tissue Culture
Interfaculty course: Environmental Sciences
PG Diploma EBT: Biotechnology in Conservation of Biodiversity
Undergraduate: Bryophyta, Biomolecules, Reproductive biology of Angiosperms, Plant Physiology
B. Voc. Agriculture Technology
B. Voc. Green House Technology
B. Voc. Dairy Technology
B. Sc. (H) Applied Botany Sciences
B. Sc. (H) Agriculture
Member in Institute Committees
Member, Academic Council, 2007-2008.
Member, Department Board of Studies.
Member, Faculty Board of Studies.
Member, Faculty Examination Committee.
Member, Faculty Co-curricular Activities.
Coordinator, Department of Botany Vision 2031.
Coordinator, PG Diploma in Environmental Biotechnology, UGC sponsoredInnovative Programme.
Organized NSS Camp
Conferences/Workshops Organized/Resource Persons
Statistical Applications In Biotechnology Two Day Workshop 30 & 31 October 2009.
Microspore culture for haploid production, Two day workshop 10 & 11 December 2011.
M.Sc. Botany with splztn. in Plant & Microbial Biotechnology: Syllabus finalizing Workshop 12 April 2012.
Value-based Science, Engineering , Management Quality Education: Trends and Policy VALEDU 2015, 30-31 October, 2015 Dayalbagh Educational Institute (Deemed University) Dayalbagh, Agra – 282 005
DBT sponsored VIGS workshop 2016. Virus induced gene silencing (VIGS) – a tool to study gene function in plants for research scholars and faculty members and "National workshop on tools and techniques in plant biotechnology" 20thJanuary to 2ndFebruary 2016, The Department of Biotechnology, Hindustan College of Scienceand Technology, Farah.
Two days National Seminar on Plant and Microbes in Human Welfare, 28th - 29th march 2016, Department of Botany, DEI Agra
One day Workshop on Agriculture in Dayalbagh and DEI – Past, Present and Future, 1st September 2018, Department of Botany, DEI Agra
National Conference on Bioprospecting and Bioactive compounds from microbes and plants on 28th – 29th march 2019, Department of Botany, DEI Agra
List of Ph.D. students completed or pursuing research projects:
S. No.

Name of the Candidate

Topic

Year of Enrolment

1

Dr. Akbar Ali

Proteome profile of Mentha piperita L. Under the treatment of different fractions of gamma irradiated sodium alginate

N-PDF

(SERB)

Completed

2

Dr. Gulshan Chaudhary

Reproductive biology and in vitro studies on Boerhaavia diffusa L.

Awarded

3

Dr. Juhi Chaudhary

Selection for high yielding Asparagus racemosuswilld. Lines through chemical analysis, molecular analysis of the germplasm and in vitro studies on selected lines

Awarded

4

Dr. Dolly Rani

Identification and selection of suitable extracts from medicinal plants that are affected against in vitro cultures of Leishmaniadonovani casual organism of Kala-azar

Awarded

5

Dr. Mubashar Nazir Mintoo

Investigation in to in vitro regeneration, secondary metabolite production and endophytes in selected species of Piper

Awarded

6

Ms. Mrinalini Prasad

Biochemical and molecular studies on differential production of piperine and its precursor in different parts of Piper longum L.

Thesis Submitted

7

Mr. TegBahadur Singh

Isolation, characterization and evaluation of growth of plant growth promoting rhizobacteria from agricultural field in Agra

2015

8

Ms. ArtiYadav

Production of salt tolerant rootstocks lines and standardization of in vitro plant regeneration protocol in Citrus sp.

2015

9

Ms. Preksha Shrivastav

Study of dynamics of establishing a botanical diversity park

2016

10

Deepika Goyal

Investigations into endophytes in Pimenta dioica (L.) Merr.

2018

11

Mr. Achal Mogla

Study on promotive properties of milk prepared with selected Herbal Flavours

2018

12

Versha Dixit

Photosynthesis and accumulation of secondary products

--

13

Neetesh Rathore

Whey and its products

--

14

Rajesh

Greenhouse Designing

15

Suman

Greenhouse cultivation

--
Work regarding field development and infrastructure development
Developed a field in Padahan, Solan, Himachal Pradesh
Padahan is a hilly area where three different kinds of crop have been established: fruit, vegetable and medicinal crop. Other plants growing in that area are pine and pears. Different varieties of fruits planted include pomegranate, apple, orange, parsimon etc. Vegetable crops as green chilli, tomato, pumpkin, brinjal etc. have been planted. Medicinal plants as shatawar, mulethi, ginger, kali mirch, all spices etc. are also being cultivated here
Biodiversity Park at REI Inter college
A biodiversity Park has been developing at REI Intermediate College, Dayalbagh, Agra to conserve indigenous plants and animal species. The Biodiversity Park, developed on nine acres, is planned to provide an interface between science and society. As part of the Agricultural Operations students actively participated in leveling the land, digging pits and plantation work. The Biodiversity Park consists of almost 1500 plants and trees representing 150 different species collected from Haldhwani, Jodhpur and other places.
Multi Fruit Orchard at Seminar Complex, DEI
This land is about half a kilometer from the banks of Yamuna. The soil is predominantly sandy with very low water holding capacity. The soil is rich in mineral nutrients but is essentially carbon dead. Added to this use of ground water for irrigation is highly discouraged. Moreover, rains in Agra erratic. With minimal water availability, summer temperatures touching 46 °C and humidity as low as 10-11 % even during winters this zone is perfectly semi-arid. Plantation and maintenance of plants and trees is a big challenge at this place.
Before the onset of monsoon of 2016 leveling of the land and digging for plantation was started. During monsoon over 9000 plants and trees were planted here by students. Boundary of the park is lined with bougainvilleas on the outside and shrubs in the second layer. The third layer consists of tall trees to serve as wind breaks. The park has been designed in such a way that hot summer winds after striking the outer layers of plantation will rise up and will rise up along the tall trees. Five ponds of varying sizes have been dug for rain water harvesting and to serve as water reservoirs. Fruit plants of guava, pomegranate, kinnus, mausami, lemon, mango, cheeku, mulberry, phalsa, jackfruit, keth, karonda etc. have been planted. For the first time in U.P. olive plants have been planted to study their performance.
Paper Review
Increased the flavonoids production and rate of organogenesis in Oroxylumindicum through altering the inorganic nutrients of culture media, Vilas R Parmar1* and Yogesh T Jasrai, In Vitro Cellular & Developmental Biology – Plant.
High responsiveness in de novo shoot organogenesis induction of Passifloracristalina(Passifloraceae), a wild Amazonian passion fruit species, Rodrigo Brito de Faria, IlioFealho de Carvalho, Ana AparecidaBandini Rossi, ElyabeMonteiro de Matos, Diego Ismael Rocha, Daniela Lopes Paim Pinto, Wagner CamposOtoni, MaurecilneLemes da Silva, In Vitro Cellular & Developmental Biology – Plant.
Growth, lipid peroxidation, organic solutes and antioxidative enzyme content in drought stressed date palm embryogenic callus suspension induced by polyethylene glycol, Helaly, MN, Hanan El-Hosieny, AR, El-Sarkassy, NM and Fuller, MP, In Vitro Cellular & Developmental Biology – Plant.
Contribution to the National and International Collaboration:
International
Michigan State University, USA
University of Arkansas, USA
Kiel University, Germany
National
Dr. Y.S. Parmar Agricultural University for Horticulture & Forestry, Nauni, H.P.
Govind Bhallabh Pant University of Agriculture and Technology
Indian Agriculture Research Institute, New Delhi
Bhabha Atomic Research Centre, Mumbai
Jain Irrigation, Jalgaun, Maharashtra
Beej Sheetal Pvt Ltd., Jalna, Maharashtra
Aligarh Muslim University, Aligarh