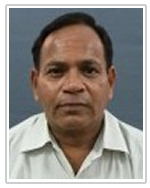 Prof. Jenendra Nath Shrivastava
Professor & Head of Department
Educational Qualification - M.Sc., Ph. D. (Microbiology)
CONTACT
Department of Botany
Dayalbagh Educational Institute (Deemed University)
Dayalbah, Agra 282 005 (UP), India
Tel.: (0562) 280 1545
Mob: 9456433062
Email: This email address is being protected from spambots. You need JavaScript enabled to view it.
Dr. Jenendra Nath Shrivastava's teaching interests are Fungi, Microbilogy, Pteridophytes and Microbial Technology. His research interests consists of Microbiology (Industrial Microbiology), Microbial biotechnology, Natural Products and Bioremediation of waste water. He is also a Member of Agriculture operation, Faculty coordinator, Games (Kho-Kho); Member Board of Studies, Associate Editor J. of living world, DEI J. of Sci. Engg. Research, Counselor of J. IBS, member of NAAC. He has also authored to 52 research papers.
Teaching Assignments
Odd Semester :
BOM302
BOM304
BOM305
BOM702
BOM712
BOM715
Even Semester:
BOM201
BOM203
BOM204
BOM205
ABS201
ABS202
ABS203
ABS204
BOM601
BOM605
BOM911
BOM958
Areas of research and Research interest :- Aero microbiology, Bioremediation, Medical Mycology, Microbial Bio technology, Nanotechnology.
Honours and Recognition:-
Associate Editor-Journal of living world
Associate Editor- Journal of Science D.E.I. & Engineering Research
Member Editorial board- Vegetos
Life member –System society of India
Selected publications (best five):-
For papers in Journals:
1. J.N. Shrivastava, NupurRaghav and Abha Singh, (2012). Laboratory scale bioremediation of Yamuna water with effective microbes (EM) technology and nanotechnology. BIOREMEDIATION AND BIODEGRADATION. 3(8). (International) (I.F- 3.76, Cited by- 05)
2. RagineeVerma, G.P. Satsangi, J.P. Shukla and J.N. Shrivastava, (2012). Techniques of microbiological
assay current methods and comparison of novel assay with exciting diffusion technique. ADVANCED PLANT SCIENCE. 25(1), 385-390. (National)
3) Anupam Singh, Subhangi Mittal, Rohit Shrivastava, SahabDass and J.N. Shrivastava, (2012). Biosynthesis of silver nanoparticles using Ricinuscommunis L. leaf extract and its antibacterial activity. DIGEST JOURNAL OF NANOMATERIALS AND BIOSTRUCTURES. 7(3), 1157-1163. (International) (I.F- 0.945)
4) ShubhangiMittal,Sukhdev Roy and J.N. Shrivastava, (2013). Fungicidal Response of a Novel Natural Photosensitizer(Beta vulgaris) on Candida albicans with Low power Radiation, LASER PHYSICS. 22(12): 1-7. (International) (I.F.-3.6)
5) Mamta, J.N. Shrivastava, G.P. Satsangi and Ranjit Kumar (2014).Assessment of bioaerosol pollution over Indo-Gangetic plain. ENVIRONMENTAL SCIENCE AND POLLUTION RESEARCH. DOI 10.1007/s11356-014-3776-99 (International) (I.F-2.7)
6) NupurRaghav and Shrivastava, J.N. (2016). Toxic Pollution in River Water and Bacterial Remediation: An Overview. INTERNATIONAL JOURNAL OF CURRENT MICROBIOLOGY AND APPLIED SCIENCES. 5(4): 244-266. (International) (I.F- 2.9)
7) Singh Anshu, ShekharSujata and Shrivastava J.N. (2019).Biosynthesis of Silver Nanoparticles from various Microbial and Green resources-A Review.RESEARCH JOURNAL OF BIOTECHNOLOGY. 14 (8), 120-130. (International) (SCI I.F- 0.233)
For Books/Book Chapters:
Production and characterization of antimycotic drugs from Bacillus Sp. (LAMBERT PUBLICATION,USA-2012)