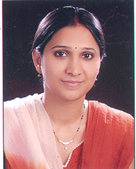 Dr. Sushma Mishra
Assistant Professor
Educational Qualification - Ph. D.
CONTACT
Department of Botany
Dayalbagh Educational Institute (Deemed University)
Dayalbah, Agra 282 005 (UP), India
Tel.: (0562) 280 1545
Teaching assignments
Odd Semester
BOM301 (BSc II yr)): Bryophytes
BOM502 (BSc (H)): Cytogenetics and Plant Breeding
BOM713 (MSc (P)): Cell Biology
BOM 703 (MSc. (P)); Cell and Molecular Biology
BOM 902 (MSc. (F)) Plant Biotechnology
ABS101 (BSc. Applied Botany, I yr): Fundamentals of Botany and its Applications
GPB301 (BSc Agriculture, II yr): Fundamentals of Plant Breeding
ESc191 (BSc. I yr): Environmental Science
Even Semester :
BOM202 (BSc. I yr): Cell Biology
BOM402 (BSc II yr): Biomolecules
BOM602 (BSc. (H)): Embryology
GPB201 (BSc Agriculture, I yr): Fundamentals of Genetics
BOM 801 (M.Sc. (P)) Title: Inheritance Biology
Areas of research:
Plant Molecular Biology and Biotechnology
Research Interests
Bioprospecting of Endophytes
Microbial Diversity in Higher Plants
Plant Microbe Interactions
Honour and Recognitions
Life Member of Indian Science Congress Association, Kolkat
Reviewer of the journal: Theoretical and Experimental Plant Physiology (TXPP)
Granted University Teaching Assistantship in the Department of Plant Molecular Biology for 4 yearsfrom 2009 - 2013
Won Poster prizes in two international conferences: International Symposium on Plant Signalling and Behaviour, held in March 2014 and Asian Congress on Biotechnology (2013)
Gold medalistin M.Sc. in Plant Molecular Biology and Biotechnology
University Medal in B.Sc. (II year) for securing III position at University level
Secured highest marks in Biology in CBSE Board Class XII at the school level.
Cleared CSIR-JRF (first attempt)
Awarded following Scholarships:

Monsanto Post-graduate Scholarship (2008-09),
Rotary Club Scholarship (2008-09) at M.Sc. level
South Campus Endowment Scholarship (2007-08) at M.Sc. level
Science Meritorious Award (2004-07) at B.Sc. level
Selected Publications
For papers in Journals:
Mintoo MN, Mishra S, Dantu PK (2019) Isolation and Characterization of Endophytic Bacteria from Piper longum. Proc. Natl. Acad. Sci., India, Sect. B Biol.Sci. https://doi.org/10.1007/s40011-018-01064-8(Impact Factor: 0.4) ISSN 0369-8211
Mishra Sand Khurana JP (2017). Emerging roles and Novel signaling paradigms of Plant cryptochromes. Critical reviews in Plant Sciences 36 (2) 89-115 (Impact Factor: 6.6)
Bollineni H, Gopala Krishnan S, Prabhu KV, Singh NK, Mishra S, Khurana JP, Singh AK (2017). Alteration in hormonal homeostasis due to disruption of Aux1 gene in Golden Rice ® GR2-R event results in inferior agronomic performance. PLOS One. https://doi.org/10.1371/journal.pone.0169600. (Impact Factor: 3.0)
Bollineni H, Gopala Krishnan S, Sundaram RM, Sudhakar D, Prabhu KV, Singh NK, Pal M, Mishra S, Khurana JP, Singh AK (2014). Marker assisted biofortification of rice with pro-vitamin A using transgenic Golden Rice® lines: progress and prospects. Indian J. Genet., Suppl. 74 (4): 1-7. (Impact Factor: 0.4)
For Books/Book Chapters:
Mishra S, Gupta D and Ranjan R (2019) Molecular approaches for enhancing stress tolerance in plants. "Approaches for Enhancing Abiotic Stress Tolerance in Plants." Boca Raton: CRC Press, https://doi.org/10.1201/9781351104722. eBook ISBN 9781351104715
Mishra S(2019) Targeted Genome Editing Tools in Plants" In "Innovations in Life Science Research". NOVA Sci. Pub., USA ISBN: 978-1-53615-868-7.
Mishra S, Goyal D, Kumar A, Dantu PK. Biotechnological Applications of β-Glucosidases in Biomass Degradation. "Recent Advancement in White Biotechnology through Fungi". Springer ISBN: 978-3-030-25505-3.
For papers in Conference Proceedings (Confs. in which full paper has been published):
Phurailatpam L, Goyal D, Dantu, PK and Mishra S (2019)Isolation of IAA-producing endophytes from Piper longum (L.) . Bioprospecting and Bioactive Compounds from Microbes and Plants. ISBN – 978-93-81778-71-5)