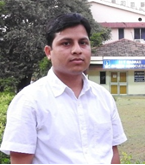 Dr. Ajay Kumar
Assistant Professor
Educational Qualification
- Master of Science in Botany, Department of Botany
Ph.D. (2017) in Environmental Science
CONTACT
Department of Botany
Dayalbagh Educational Institute (Deemed University)
Dayalbah, Agra 282 005 (UP), India
Tel.: (0562) 280 1545
Career and Research interests:
With an enthusiasm in Natural Sciences, I have my masters in Botany and researching in the area of Environmental Sciences, studying atmospheric pollution and their various causes and effects on Natural Environmental. I have a strong interest in Botany as a subject for teaching and research. My current and future research interests are to work in environmental pollution and biosphere-atmosphere interactions.
Teaching Assignments:
Odd semester
Cell Biology (BOM-713)
Cell Biology Practical (BOM-715)
Agriculture Meteorology (VAT-108)
Agriculture Meteorology Practical (VAT-107)
VAT Cereal and Millets Practical (VAT-104)
Botany Theory (BOH-101)
Botany Practical (BOH-102)
Environmental Studies (ESC-161/181/191)
Even Semester
Plant Anatomy (BOM-401)
Plant Anatomy Practical (BOM-404)
Bacteria, Virus, and Mycoplasma (BOM-201)
Bacteria, Virus and Mycoplasma Practical (BOM-203)
Microbiology (BOM-601)
Environmental Studies (ESC-191)
Area(s) of Research:
Atmospheric particulate pollution
Biological aerosols
Pollen Ecology
Biosphere-atmosphere interactions
Awards/Fellowships/Training:
CSIR Senior Research Fellowship from 01/01/2013-31/12/2015.
CSIR Junior Research Fellowship from 01/01/2011-31/12/2012.
Qualified CSIR-UGC JRF & NET in 2010.
Junior Research Fellowship offered by UGC for research in BHU.
Graduate Aptitude Test in Engineering (GATE) qualified in 2010.
Training/Short Courses Attended:
UGC-NRCBS winter school on 'Recent Trends in Applied Ecology' in Madurai Kamaraj University, Madurai from Aug 25th – 8th Sept 2011.
Aerosol Properties: Health, Regional, Air quality and climate in IIT Delhi from 1st April-5th April 2011
Workshop on Data analysis using SPSS in Jawaharlal Nehru University, New Delhi, May 2014.
Winter School on Atmospheric Aerosol Physics, Measurements, and Sampling Techniques' from 16th-19th February 2016.
Research Publications:
Kumar, A., Attri, A.K., Characterization of fungal spores in the ambientparticulate matter: A study from the Himalayan region. Atmospheric Environment (2016) 142, 182-193.doi:10.1016/j. atmosenv.2016.07.049. Impact Factor 3.629.
Kumar, A.,Attri, A.K. Biomass Combustion a Dominant Source of Carbonaceous Aerosols in the Ambient Environment of Western Himalayas. Aerosol Air Qual Res (2016) 16, 519-529. doi: 10.4209/aaqr.2015.05.0284. Impact Factor 1.637.
Kumar, A.,Attri, A.K., Correlating respiratory disease incidences with corresponding trends in the ambient particulate matter and relative humidity, Atmospheric Pollution Research (2016), 7, 858-864.http://dx.doi.org/10.1016/j.apr.2016.05.005. Impact Factor 2.606.