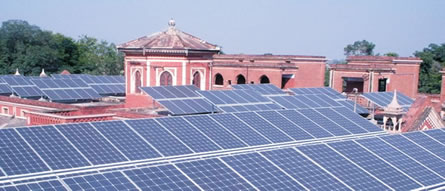 The Dayalbagh Educational Institute, a premier university of India, has emerged as a triple entity with the three fold functions of a Secondary Board, a Technical Education Board and a University. The Institute has introduced a scheme of innovative and comprehensive education in the above three domains with the aim of developing in its Alumni an integrated personality of a well-adjusted complete person. The Institute has received 'A' Grade in a recent NAAC accreditation. The conference coincides with the Centennial Celebrations of the Foundation of Education in Dayalbagh, as also which is poised to become a vocational university campus, a Decade of Distance Learning
Centre at MTV Puram.
In order to attain the above lofty vision in a sustainable way, and in particular to realize the vision of "Eco-Village", the Dayalbagh Educational Institute has ventured into 'total' solar electrification of its campus.
This decentralised model uses 7 Roof-Top Solar Photovoltaic (SPV) power plants together supplying 518.2 kW at present. This, when combined with two more plants under erection and the existing residential units will amount to about 1 MW capacity. It also uses solar thermal cooking systems in all the hostels. In addition to the above micro grid in the main campus at Dayalbagh, Agra, about 30 kW has been installed at various Distance Education Centers of DEI in different regions of the country. A 5kW Solar-Wind integrated system has been installed at its Melathiruvenkatanathapuram (MTV Puram), Tirunelveli campus as a training test bed for the pioneering vocational stream on solar – wind electrification being launched in January 2014. This is relevant to the rural development of the region with abundant solar and wind energy. The renewable energy initiatives of Dayalbagh Educational Institute have demonstrated that Universities, building intellectual resources through teaching-learning and research, are perfect venues for establishing renewable energy microgrids. In addition to sustainable development through clean energy technologies and self-sufficiency in energy, a university micro grid is an ideal test bed for conducting indigenous research and development through UG and PG projects and Ph.D. theses. This would ensure quality research with relevance as well as development of skilled man power and intellectual property in the area. Universities can design and implement model curriculum for vocational diploma and certificate and higher courses in solar energy technologies, provide earn-while-you-learn schemes to the students and encourage entrepreneurial start-ups through incubation cells.