Articles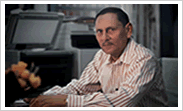 Prof. Anand Mohan
Registrar
B.Sc. Physics, Mathematics & Geology (Hons.), Ph.D. (Metamorphic Petrology)
Dayalbagh Educational Institute (Deemed University) Dayalbagh, Agra 282 005, (UP) India
Tel: (0562) 280 1545, 654 4855
Fax: (0562) 280 1226
Prof. Anand Mohan has earned B.Sc. degree in Physics, Mathematics and Geology (Hons.) in 1976, and Ph.D. in Metamorphic Petrology from Benaras Hindu University in 1983. He worked as Research Scientist 'A' in University Grants Commission, New Delhi during 1984-86. Thereafter he joined the Geology Department of Benaras Hindu University (BHU) as faculty in 1986. He became Reader in Geology at BHU and served in the capacity from 1991-99. From 1999-2009 Prof. Anand Mohan served as Professor in the same department. As a Leverhulme Commonwealth Fellow, Prof. Anand Mohan visited Leicenster University, UK for his Post Doctoral research. He also visited several other countries including Australia, Japan, England, and Ireland for International Conferences in his professional field.
Prof. Anand Mohan has a rich experience spanning upto 23 years of graduate and post-graduate teaching in the areas of metamorphic Petrology, Mineralogy, Precambrian Geology and Application of Thermodynamics of Pterological problems.
His holds keen research interest in the areas like Ultra-high temperature crustal metamorphism, Microtextures of sapphirine-bearing rocks, P-T-t evolution of granulites, migmatites and charnockites in metamorphic belts, Geological development of Eastern Ghats - Southern Granulite Belt and East Gondwana connection, Tectono-metamorphic evolution of Sikkim and Arunachal Himalaya.
Prof. Anand Mohan has a wide administrative experience as Sectional Committee Member, Earth Sciences, Indian Academy of Sciences; Expert, Indian Antarctica Research Programme; DST Expert Member on EPMA at IIT, Kharagpur; Convener, DST Programme on "Art of Petrography" and as UGC Expert to Selection & Awards Bureau. He is also Guest Editor to Journal of Metamorphic Geology, UK.
A scholar par excellence, Prof. Anand Mohan has earned several distinctions and awards as follows:
Member, Technical Advisory Committee, Physics & Earth Sciences Division, Indian Statistical Institute, Kolkata

Member, Selection Committee, Swarnajayanti Fellowships, (Earth Sciences) DST, New Delhi

Member, Selection Committee, national Mineral Awards 2007

Expert Member, XI Plan UGC Visiting Committee to Dibrugarh University, Dibrugarh, Assam

Member, Editorial Board, Geological Society of India, Bangalore (2008-2011)

Fellow, National Academy of Sciences (FNASc), Allahabad

Fellow, Indian Academy of Sciences (FASc), Bangalore

Recipient of M. R. Srinivasa Rao Award from Geological Society of India

National Mineral Award from the Ministry of Steel 7 Mines, Government of India

Career award, University Grants Commission, New Delhi

Indian National Science Academy (INSA) Medal for Young Scientist
Prof. Anand Mohan has 50 research papers, 275 citations of publications to his authorship credit. He has also edited a book entitled 'Milestones in Petrology and Future Perspectives' Memoir 52, published by Geological Society of India, Bangalore.
Presently he is serving the Institute as Registrar.