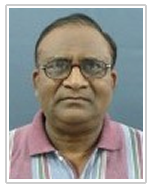 Prof. Guru Prasad Satsangi
Emeritus-Professor
Educational Qualification - M.Sc.(Ag.), Ph.D. in Agricultural Extension (B.H.U. Gold Medalist)
CONTACT
Department of Botany
Dayalbagh Educational Institute (Deemed
to be
University)
Dayalbah, Agra 282 005 (UP), India
Tel.: (0562) 280 1545
Email: This email address is being protected from spambots. You need JavaScript enabled to view it.
Professor Guru Prasad Satsangi started his career as Lecturer in Agricultural Extension at K.A.Post Graduate College,Allahabad in1982 before joining Dayalbagh Educational Institute in January1986. He has taught undergraduate, postgraduate and research since last 40 years. His areas of research interest are Weed Management, Allelopathy, Agro-] technology, Extension, Nutrient Management, Agricultural Microbiology, He has credit to publish 70 research papers in reputed national and international Journals viz., Allelopathy Journal, Journal of Environmental Biology, Geobios, Journal of Protosciences, Vegetos, Journal of Extension System, etc. and to participate and present 50 research papers in national and internationa lconferences within and outside the country at Australia, U.S.A., China, Canada, NewZealand. He has written Study material "Agricultural Operation" in English and "KrishiKriyayein" in Hindi for the benefit of the students of the Institute and also written 6 chapters in different books.He has completed 3 UGC Minor research projects.He has supervised 8 Ph.D.and 36 research dissertations of M.Phil and M.Sc.students.Professor Satsangi visited Perth Western Australia, London (UK), Marsielle, and Paris (France) to participate and present his research papers in Conferences..He is Life Member of the Systems Society of India, Member of Society for Prevention of Healthy Environment and Ecology and Heritage of Agra (SPHEEHA), and Standing Group for Productivity of Agricultural Farm, Department of Agro Ecology Dayalbagh. Agra.
Teaching Assignments:
Engaged in teaching B.Sc. Hon. (Agriculture), B.Voc. (Agricultural Technology), B.Tech. (Agricultural Technology , M.B.A (Agricultural) Management) classes.
Research Experience - 40 Years
Research supervision - Ph.D. 10
M.Phil. 9
M.Sc. 30
Area of Interest-
Extension activities, Community Work in Medical cum Rural Assistance Camp,. Life Member of the SystemsSociety of India, Society for Prevention of Healthy Environment and Ecology and Heritage of Agra (SPHEEHA),InternationalAllelopathySociety StandingGroupforProductivityofAgriculturalFarm ( Department of Agro- Ecology,Dayalbagh)AsianAllelopathy Society and Alumni of Association of DayalbaghEducational Institutions (AADI)
Research Intrests:
WeedManagement,Allelopathy,Agro- technology, Extension, Nutrient Management, Agricultural Microbiology and Aerobiology. Agricultural Communication, Dairy Technology, etc.,
Honors and Recognitions:
B.H.U Gold Medal
Life Memberof System Society Of India
Member,InternationalAllelopathySociety
Selected Publications(after 2013):
K. Kanchan ,S. GuptaG. P. Satsangi J. N. Shrivastava (2013) Novel biosynthesis of silver nanoparticles (SNPs) using Chrysosporium sps. and Aspergillus sps. Int. J.Nano Dimens. 4(2): 105-110, Autumn 2013 ISSN: 2008-886
Kalpana Kanchan, G. P. Satsangi and J. N. Shrivastava (2015) Bio-Efficacy of Synthesized Silver Nanoparticles against Food Spoilage Fungi by using Different Food Packaging Sheets Int. J. Pure App. Biosci. 3 (2): 492-497 ISSN: 2320 – 7051
R.Verma, G.P.Satsangi,J.N.Shrivastava ( 2013) Analysis of Phytochemical Constitution of ethonolic and chloroform extracts of Calotropis procera using gas chromatographic-mass spectroscopy(GC-MS) technique ournal of Medicinal Plants research 7, (40) 2986-2991
M.Sharma,G.P.Satsangi (2013) Potential allelopathic influence of Sunflower(Hellianthus annous L.)on germination and growth behaviour of two weeds in-vitro conditions Int. J. Biotechnol.Bioeng.Res. 4.421-426
Mamta & J. N. Shrivastava ,G. P. Satsangi , Ranjit Kumar(2014) Assessment of bioaerosol pollution over Indo-Gangetic plain ,Environ Sci Pollut Res DOI 10.1007/s11356-014-3776-9
Shivani, Kalpana Kanchan ,G.P.Satsangi (2015) Impact of Different Plant Parts of Eucalyptus alba L. upon Germination and Growth parameters of Trifolium alexandrinum L. (Invitro and In vivo Conditions, International Journal of Scientific Research Vol.4 Issue 1 January 2015 ISSN NO. 2277-8179 PP 7-9Volume : 4 | Issue : 1 | January 2015 • ISSN No 2277 - 8179 Volume : 4 | Issue : 1 | January 2015 • ISSN No 2277 - 8179
Shiv Shankar Gautam, Guru Prasad Satsangi, Sanjay Yadav and Vibha Rani Satsangi(2018) Application of multiwalled carbon nanotubes on the germination and seedling growth of wheat (Triticum aestivum L.)International Journal of Applied ResearchVol.4 Issue 11 ISSN Print: 2394-7500, ISSN Online: 2394-5869, CODEN: IJARPF, Impact Factor: RJIF 5.2 pp106-108
S.S.Gautam, G. P. Satsangi (2018) Inhibitory Effect of Wild Onion( Asaphodelus tenifolius Cav. ) on the Seedling Growth of Zea mays L.International Journal of Advanced Research Vol. 7,Issue 07 ISSN 2320-5407, DOI 10.21474/IJAR01/7785 PP 60-63
SS Gautam,G.P.Satsangi.V.R.Satsangi(2020) Chemical Synthesis,Functionalization and Characterization of Multiwalled Carbon Nanotubes ,Journal of NanoScience and Technology 905-907
Nupur Raghav,J.N.Shrivastava, G.P.Satsangi,Ranjeet Kumar (2020)Enumeration and Characterization of Air borne Microbial Communities in an outdoor Environment of the City of Taj,India, Urban Climate https://doi.org/10.1016/juclim.2020,100596
Pratima Gupta, Mamta Satsangi, Guru Prasad Satsangi,Ranjit Kumar(2020) Exposure to Respirabla and fine dust particle over North Central India, Chemical characterization,source interpretation and health risk analysis, Environmental Geochemistry and Health,42(7) 2081-2099 DOI: 10.1007/s10653-019-00461-w
CHAPTERS PUBLISHED IN BOOKS:
Satsangi, Guru Prasad (2002) Krishi Vanki Ke Dwara 21st Sadi Main Bharat Varsha Ki Khadya Samsyaka Samadhan in K.S. Dadhwal and K.R. Solanki. Ed.Krishi Vvaniki Dwara Prakirtik Sansadhano Ka Prabandhan Evam Sanrakshan (in Hindi), Indian Society of AgroforestryJhansi pp 295-298
Shrivastava, J.N.,Govil, Nidhi, Bhatnagar, V.P.,Bhatnagar, A.K.,Satsangi, GuruPrasad and Mathur, Manish(2004) Tineacorporis and Allied Diseases (Dermatophytosis) in Rural and Urban Population of Agra. In Microbiology and Bio technology for Sustainable Development (Ed. PC Jain), C.B.S. Publishers and distributors, New Delhi-pp 339-372
Satsangi, Guru Prasad (2005) Ethical Issue in Agriculture System in Theology, Science and Technology, Ethics and Moral Values Ed Prem K.Saxena,Devendra K Chaturvedi (2005), Vikas Publishing House Pvt.Ltd. NewDelhi pp290-292
Satsangi, Guru Prasad(2009) Impact of Climate Change on Agriculture, Invited Article for Seminar on Facing the Challenges of Climatic Change and Global Warming in Agra, (Society for Preservation of Healthy Environment and Ecology and Heritage of Agra ) 1 March2009 at Agra pp 28-29