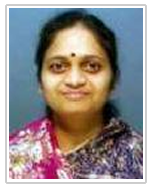 Dr. Sharmita Gupta
Assistant Professor
Educational Qualification - M.Sc.(Mycology and Plant Pathology), IARI,Ph.D
CONTACT
Department of Botany
Dayalbagh Educational Institute (Deemed University)
Dayalbah, Agra 282 005 (UP), India
Tel.: (0562) 280 1545
Dr. Sharmita Gupta Joined recently (10th March, 2010) as a lecturer in Botany Department, DEI. Formerly worked as Visiting Fellow, Botany Department, DEI.
Dr. Sharmita Gupta is Life Member, Systems Society of India,External Expert Member, Board of Studies, DEI.
Her Areas of research are Plant Virology, Fungal Virology and Microbiology. She is Currently working on mycoviruses of human pathogenic fungi like Chrysosporium etcetera andantimicrobial activity of Catharanthus roseus.
Teaching Assignments
Odd Semester:
Undergraduate classes:-BOM102 (Fungi and Plant Pathology); BOM 103 & BOM 104 (Practicals and related seminars) ;(BOH101(Botany Half course) BOH 102 (Practicals for half course) BOM504 , BOM 505 (Ecology And Practicals)
Post graduate classes:-BOM 701(Algae, Fungi and Plant Diseases); BOM702 & BOM 712 (Microbiology)
Interfaculty courses ;Core courses and P.G.Diploma courses:-BOH 181 (Environmental Science) ; ESC 191 [Core course in Environmental Sciences]; EBT 104 (Bioremediation)
Even Semester:
Undergraduate classes:-BOM201 (Bacteria ,Virus and Mycoplasma); BOM 202 (Cell Biology) , BOM 203 (Practicals for cell biology); BOM 601 (Microbiology); BOM 603 (Applied and Ethnobotany); BOM 605 (Practicals)
Post graduate classes:-BOM 803 ,BOM 806 (Microbial Ecology & Practicals)
Interfaculty Core courses : ESC 281 ( Environmental Sciences In Engineering Faculty)
Area(s) of Research and Research Interests
Mycology; Virology; Plant Pathology; Ecology & Environmental Biotechnology
Honors and Recognitions
Awards and fellowships :-
Awarded Double Gold Medals in M.Sc. for:
Outstanding Presentation of Research Contribution in the Institute, I.A.R.I. Pusa Instt.
Outstanding Academic Performance in the Discipline of Mycology & Plant Pathology. I.A.R.I
Delhi University Medal [University rank Ist in B.Sc. Botany Hons. Ist year]
Secured Merit Position in Delhi University after completion of 3 years of graduation.
Received National Scholarship in B.Ed.
Awarded IARI Junior Fellowship for M.Sc.
Awarded IARI Senior Fellowship for Ph.D.
Membership of learned societies:-
Life Member
Indian Virological Society;
System Society Of India;
Society of Human Resource and Innovation
Executive editor and member Advisory Board
Journal of Virology Research
INVITED TALK Mycoviruses: an overview of a newer field in Indian virology in Asia-Pacific Congress of Virology VIROCON 2013 by Indian Virological Society & Amity Univ., Noida
Other assignments :-
Proctor III & IV semester
Departmental IQAC Co- Coordinator
Departmental Time Table Incharge
Departmental Member Moderation Committee and Departmental Board Of Studies
Member Science Faculty Examination Committee
Convenor for various Cultural and Sport events
Ex-Member University Canteen Committee
Member University Admission Committee
External Expert Board Of Studies For PV And REI
Faculty Garden Incharge etc.
Selected Publications:-
Several papers in reputed journals of national and international importance
Co authored a book Spirulina- Mass Cultivation and its medicinal & health aspects
Sharmita Gupta Newer evidence to demonstrate mycovirus of Fusarium moniliforme var. subglutinans as causal agent of mango shoot malformation J. Ent. Res., 15 (3):222-228 (1991). Springer Publication
Sakshi Sharma, Sharmita Gupta, J.N.Shrivastava (2011). Presence of virus like particles in human pathogenic fungi, Chrysosporium sps and Candida albicans. Indian Journal of Virology.22 (2):104-110.
Sharmita Gupta, Ritu Sharma, S. K. Soni, Sakshi Sharma (2012). Biomass utilization of waste algal consortium for extraction of algal oil. Journal of Algal biomass Utilization. 3 (3): 34– 38.
Kratika Kumari and Sharmita Gupta (2013).Phytopotential of Catharanthus roseus L. (G.) Don. Var. "Rosea" and "Alba" against various pathogenic microbes in vitro. International Journal of Research in Pure and Applied Microbiology.3 (3): 77- 82.
Chanchal Gautam and Sharmita Gupta (2014).Antagonistic effect of Trichoderma viride and Trichoderma harzianum against plant pathogenic fungi and its growth on different agro waste substrates.International Journal of Engineering & Technical Research.Special Issue, 23-25.
Sakshi Sharma and Sharmita Gupta Isolation and partial characterization of virus like particles from Chrysosporium pseudomerdarium, human pathogenic fungi. Asian academic research Journal of Multidisciplinary.14 (1): 1- 19. (2013).