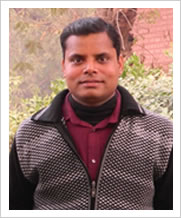 Dr. Rajiv Ranjan
Education Qualification -
M.Sc. (Agricultural Biotechnology), Ph.D.in Biotechnology (Institute of Life Sciences, Department of Biotechnology, Govt. of India, Bhubaneswar)
CONTACT
Department of Botony
Dayalbagh Educational Institute (Deemed University)
Dayalbagjh, Agra 282 005(UP), India
Tel.:- (0562)280 1545
Email: This email address is being protected from spambots. You need JavaScript enabled to view it. , This email address is being protected from spambots. You need JavaScript enabled to view it.
Teaching Assignment:
Course Taught:
Odd Semester:
BOM 302 (B.Sc. III Semester) Title: Pteridophyte
ESC-161 (B.Com I Year) Title: Environmental Science
EBT 102 (PG Diploma) Title: Molecular Biology and Genetic Engineering
BOW 101 (B.Sc. I Semester) Title: Herbal Technology
VAT 101 (B.Voc. Ag Tech) Title: Fundamental of Ornamental Horticulture
BOM 703/714 (M.Sc. I Year) Title: Cell and Molecular Biology/Intro. Molecular Biology
Even Semester:
BOM 604: (B.Sc. Hons) Title: Biometrics and Computer Application
BOM 801/811 (M.Sc. II year) Title: Inheritance Biology/Genetics
BOM 814 (M.Sc. II year) Title: Bioinformatics & Biostatistics
Area of Research: Plant Bio prospecting
Research Interest:
Plant Molecular Biology
Synthetic Biology
Plant Genomics and Transcriptomics
Awards and fellowships
iGEM-2017 Award by DBT to visit MIT, Boston, USA
Summer Research Fellowship-2014 organized by IASc-INSA-NASI
Young Scientist Travel Award by DST for Canada (2011)
CSIR fellowship (Senior Research Fellow) from 2010-2012
CSIR fellowship (Junior Research Fellow) from 2007-2009
ICAR (ARS) NET in Agricultural Biotechnology
CSIR- UGC (NET) Lectureship in Life Sciences
Graduate Aptitude Test in Engineering (GATE) in Life Sciences
Department of Biotechnology (DBT) Scholarship during M. Sc. Study
I.C.A.R (National Talent Scholarship) during B. Sc (Agriculture) study
Winner of State Level Orissa Biotech Olympiad-2006
Publications
Best fivepublications in peer Reviewed Journals
1. Acharya, S., Ranjan, R., Pattanaik, S., Maiti, I. B., Dey, N. (2014): Efficient chimeric plant promoters derived from plant infecting viral promoter sequences. PlantaVolume 239,381-396 (Impact factor- 4.3)
2. Ranjan, R., Patro, S., Pradhan, B., Kumar, A., Maiti, I. B., Dey, N. (2012): Development and functional analysis of novel genetic promoters using DNA shuffling, hybridization and a combination thereof.PLoS ONE 7 (3): e31931. doi:10.1371/journal.pone.0031931 (Impact factor- 4.4)
3. Patro, S., Kumar, D., Ranjan, R., Maiti, I. B., Dey, N. (2012):The development of efficient plant promoters for transgene expression employing plant virus promoters. Molecular Plant. doi: 10.1093/mp/sss028 (Impact factor- 6.4)
4. Ranjan, R., Patro, S., Kumari, S., Kumar, D., Dey, N. (2011): Efficient chimeric promoters derived from full-length and sub-genomic transcript promoters of Figwort mosaic virus (FMV). Journal of Biotechnology.152,1-2 (Impact factor-3.2)
5. Ranjan, R.,Dey, N.(2012): Development of vascular tissue and stress inducible hybrid-synthetic promoters through Dof-1 motifs rearrangement. Cell BiochemBiophys. DOI 10.1007/s12013-012-9359-9 (Impact factor-4.3)
Book published
Rajiv Ranjan and Dipinte Gupta (2015) Introduction to Plant Promoter ((ISBN 978-3-659-82081-6) LAP LAMBERT Academic Publication, OmniScriptum GmbH & Co. KG Bahnhofstraße 28, D-66111 Saarbrücken
Patent Application
1. Title: Novel sub-genomic transcript promoter DNA fragments and a method for obtaining sub-genomic promoter DNA fragments from figwort mosaic virus. Inventors: NrisinghaDey, Rajiv Ranjan, Alok Kumar and I. B. Maiti, Patent App. No-746/KOL/2009.
2. Title: Vascular and stress inducible hybrid promoter ideal for plant derived pharmaceutical production. Inventors: NrisinghaDey, Rajiv Ranjan, SunitaPatro and I. B. Maiti, Patent Application No. 1449/KOL/2011.
Invited talk
Participated in "International Gene Conference", Montreal, Canada held on 3-4th November organized by EPS Global Medical Development Inc. and presented a talk entitled " Functional characterization of vascular and stress inducible hybrid-synthetic promoters and their utilization in engineering plants".
Editorial Board Member
PENCIL publication of Agricultural Science, published by PENCIL Academic Press
"InternationalJournal of Agricultural Research, Sustainability, and Food Sufficiency" (IJARSFS), published by Academia Scholarly Journals.
African Journal of Agricultural Science and Technology, published by Oceanic Academic Journals
International Journal of Multidisciplinary Research and Modern Education, R&D Modern Research Publication
Project sanctioned/ Completed
1. UGC-BSR Start-up-grant for newly recruited faculty (6.0 Lakhs)
2. Major project from DAE-BRNS (28.00 Lakhs) on the topic entitled "Development of heterologous stress inducible strong-hybrid synthetic promoters suitable for both monocot and dicot plants.
3. Biochip for removing heavy metal toxicity from Industrial Effluents by Department of Biotechnology (10 Lakhs)