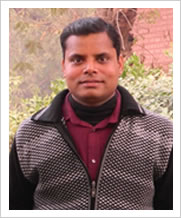 Dr. Rajiv Ranjan
Education Qualification -
M.Sc. (Agricultural Biotechnology), Ph.D.in Biotechnology (Institute of Life Sciences, Department of Biotechnology, Govt. of India, Bhubaneswar)
CONTACT
Department of Botony
Dayalbagh Educational Institute (Deemed University)
Dayalbagjh, Agra 282 005(UP), India
Tel.:- (0562)280 1545
Email: This email address is being protected from spambots. You need JavaScript enabled to view it. , This email address is being protected from spambots. You need JavaScript enabled to view it.
Teaching Assignment:
Odd Semester:
ESC-161 (B.Com I Year) Title: Environmental Science
EBT 102 (PG Diploma) Title: Molecular Biology and Genetic Engineering
BOW 101 (B.Sc. I Semester) Title: Herbal Technology
VAT 101 (B.Voc. Ag Tech) Title: Fundamental of Ornamental Horticulture
BOM 703/714 (M.Sc. I Year) Title: Cell and Molecular Biology/Intro. Molecular Biology
Even Semester:
BOM 604: (B.Sc. Hons) Title: Biometrics and Computer Application
BOM 801/811 (M.Sc. II year) Title: Inheritance Biology/Genetics
BOM 814 (M.Sc. II year) Title: Bioinformatics & Biostatistics
Area of Research:
Plant Bioprospecting

Synthetic Biology

Plant Genomics and Transcriptomics

Bioremediation
Research Interest:
Plant Molecular Biology
Synthetic Biology
Plant Genomics and Transcriptomics
Awards and fellowships
iGEM-2017 Award by DBT to visit MIT, Boston, USA
Summer Research Fellowship-2014 organized by IASc-INSA-NASI
Young Scientist Travel Award by DST for Canada (2011)
CSIR fellowship (Senior Research Fellow) from 2010-2012
CSIR fellowship (Junior Research Fellow) from 2007-2009
ICAR (ARS) NET in Agricultural Biotechnology
CSIR- UGC (NET) Lectureship in Life Sciences
Graduate Aptitude Test in Engineering (GATE) in Life Sciences
Department of Biotechnology (DBT) Scholarship during M. Sc. Study
I.C.A.R (National Talent Scholarship) during B. Sc (Agriculture) study
Winner of State Level Orissa Biotech Olympiad-2006
Publications
Patent Granted
Title: Novel sub-genomic transcript promoter DNA fragments and a method for obtaining sub-genomic promoter DNA fragments from figwort mosaic virus. Inventors: Nrisingha Dey, Rajiv Ranjan, Alok Kumar and I. B. Maiti, Patent No-Patent No-292986, Award Date: 16/02/2018
Patent Applied
Title: Vascular and stress inducible hybrid promoter ideal for plant derived pharmaceutical production. Inventors: Nrisingha Dey, Rajiv Ranjan, SunitaPatro and I. B. Maiti, Patent Application No. 1449/KOL/2011.
Selected publications in peer Reviewed Journals
Dipinte Gupta, Suresh Satpati, Anshuman Dixit and Rajiv Rajan (2019) Fabrication of biobeads expressing heavy metal-binding protein for removal of heavy metal from wastewater. Applied Microbiology and Biotechnology. https://doi.org/10.1007/s00253-019-09852-6
Dipinte Gupta and Rajiv Ranjan (2017) In silico comparative analysis of promoters derived from plant pararetroviruses. Virus Disease, 28, 416-421
Acharya, S., Ranjan, R., Pattanaik, S., Maiti, I. B., Dey, N. (2014): Efficient chimeric plant promoters derived from plant infecting viral promoter sequences. PlantaVolume 239,381-396
Kumar, D., Patro, S., Ranjan, R., Sahoo, D. K., Maiti, I. B., Dey, N. (2011): Development of useful recombinant promoter and its expression analysis in different plant cells using Confocal Laser Scanning Microscopy. PLoS ONE 6(9):e24627. doi:10.1371/journal.pone.0024627
Ranjan, R., Patro, S., Pradhan, B., Kumar, A., Maiti, I. B., Dey, N. (2012): Development and functional analysis of novel genetic promoters using DNA shuffling, hybridization and a combination thereof. PLoS ONE 7 (3): e31931. doi:10.1371/journal.pone.0031931
Patro, S., Kumar, D., Ranjan, R., Maiti, I. B., Dey, N. (2012):The development of efficient plant promoters for transgene expression employing plant virus promoters. Molecular Plant. doi: 10.1093/mp/sss028
Ranjan, R., Patro, S., Kumari, S., Kumar, D., Dey, N. (2011): Efficient chimeric promoters derived from full-length and sub-genomic transcript promoters of Figwort mosaic virus (FMV). Journal of Biotechnology.152,1-2
Ranjan, R.,Dey, N. (2012): Development of vascular tissue and stress inducible hybrid-synthetic promoters through Dof-1 motifs rearrangement.Cell BiochemBiophys. DOI 10.1007/s12013-012-9359-9
*Sahoo, D. K.,*Ranjan, R., Kumar, D., Kumar, A., Sahoo, B. S., Raha, S., Maiti, I. B., Dey, N. (2009): An alternative method of promoter assessment by confocal laser scanning microscopy.Journal of Virological Methods. 161, 114-121.*Equally contributed.
Book published
Rajiv Ranjan and Dipinte Gupta (2015) Introduction to Plant Promoter ((ISBN 978-3-659-82081-6) LAP LAMBERT Academic Publication, OmniScriptum GmbH & Co. KG Bahnhofstraße 28, D-66111 Saarbrücken
Book Chapter Published
Sushma Mishra, Dipinte Gupta andRajiv Ranjan: Approaches for enhancing abiotic stress tolerance in plants, CRC press, Taylor & Francis Group, published on January 21,2019.
Dipinte Gupta, Anamika Gupta, Kritika Yadav & Rajiv RanjanMolecular Mechanism of Plant Adaptation and Tolerance to Cold Stress (Springer) Accepted.
Editorial Board Member
"InternationalJournal of Agricultural Research, Sustainability, and Food Sufficiency" (IJARSFS), published by Academia Scholarly Journals.
African Journal of Agricultural Science and Technology, published by Oceanic Academic Journals
International Journal of Multidisciplinary Research and Modern Education, R&D Modern Research Publication
Project sanctioned/ Completed
UGC-BSR Start-up-grant for newly recruited faculty (6.0 Lakhs) "Evaluation of novel hybrid promoter for its stress inducibility in plants. Letter no-F-20-16(15)/2013(BSR)
Major project from DAE-BRNS (28.00 Lakhs) on the topic entitled "Development of heterologous stress inducible strong-hybrid synthetic promoters suitable for both monocot and dicot plants. (Letter No-37 (I)/14/40/2014-BRNS/1423
Biochip for removing heavy metal toxicity from Industrial Effluents by Department of Biotechnology (10 Lakhs), DBT, Govt. of India
Invited Speaker in the Conference/Workshop
National Conference on Microbes in extreme environment: Diversity and Translational Application during October 30-31, 2015 Organized by Department of Botany & Microbiology, School of Life Sciences, H.N.B. Garhwal University, Uttarakhand.
HCST-DBT sponsored VIGS 2016 (A Tool to study Gene Function in Plants) and National Workshop on Tools and Techniques in Biotechnology held at Hindustan College of Science & Technology, Mathura during Jan 20 to Feb.02 ,2016
International Conference on Biotechnology & Health care held during October 26-27, 2017 at PJTSAU, Hyderabad, India
National Workshop on "Application of Geoinformatics in Geographical and Botanical studies" held on 30th and 31st January, 2017.
International Conference on Bioinformatics and System Biology at Indian Institute of Information Technology, Allahabad on October 26-28th 2018.
India International Science-2018 held on Indira Gandhi Pratishtan, Lucknow from 5th -8th October 2018 organized by Department of Biotechnology, Govt. of India.
UGC-sponsored National Conference on Biodiversity: Management Issues and Conservation Strategies on 21-22nd December 2018,Organized by Department of Zoology, Gokhale Centenary College, Ankola, Karnataka
UGC-SAP Sponsored Seminar on Advances in Nano & Bioscience on March 27, 2019 organized by Department of Physics and Computer Science
Integrated East-West Forum (TSC-2019) on 25-28th June 2019 at Interlaken, Switzerland organized by DEI and Center for consciousness Studies, University of Arizona
Training/ Workshop attended
Technical Education Quality Improvement Programme-III on Microbial Diversity for Human Welfare from 9-11th April 2018 organized by Indian Institute of Technology, Hauz Khas, New Delhi
Expression Profiling of RNAi Pathway Components in Nicotiana benthamiana during May-July 2014 as a Summer Research Fellow under of Prof. Indranil Dasgupta, University of Delhi, South Campus, New Delhi jointly sponsored by IASc (Bangalore), INSA (New Delhi) and NASI (Allahabad)
Molecular Analysis of Plants infected with Begomovirus during 02.06.2017- 19.06.2017 at Advanced Center of Plant Virology, Division of Plant Pathology, IARI, New Delhi
Programme Officer Training for seven days NSS Training and Orientation Programme from 28th February to 05th March, 2016 at St. John's College, Agra
UGC sponsored Orientation Course during 06-04-2015 to 01.05.2015 organized by Academic Staff College, Jawaharlal Nehru University.
UGC sponsored Refresher Course in Life Science & Biotechnology during 03-10-2016 to 28.10.2016 organized by Academic Staff College, Jawaharlal Nehru University.
One Week Practical Training Programme on High Pressure Liquid Chromatography from 19th to 23rd September, 2016 organized by Small & Medium Pharmaceutical Industry Centre, NIPER, Mohali (Punjab)
Smart Metabolic Engineering for Plants for Drugs Biosynthesis during 16-17 March, 2018 organized by ICGEB, New Delhi
Workshop on Application of Bioinformatics in Modern Molecular Biology held at ICGEB, New Delhi from 21-25 October, 2013.
Indo-US CRISPR/Cas mediated genome Editing: Applications, tools and experimental design Workshop held at May 27-31, 2019 organized by Department of Genetics, South Campus, Delhi University
Foreign Country Visited
Delivered an invited talk on International Gene Conference held at Montreal, Quebec, Canada during Nov 3-4, 2011
Visited MIT, Boston along with 6 students (UG and PG level) to participate Global Competition called International Genetically Engineered Machine Competition (iGEM-2017) during November 9-November13, 2017 funded by Department of Biotechnology, Govt. of India. As a result of this competition finally our team DEI-AGRA bagged "Bronze Medal".
Delivered an ORAL Presentation at Integrated East-West Forum (TSC-2019) on 25-28th June 2019 at Interlaken, Switzerland organized by DEI and Center for consciousness Studies, University of Arizona