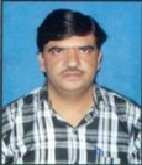 Dr. Akhilesh Kumar
Assistant Professor
Educational Qualification
-
M.Sc., Ph.D. in Botany
CONTACT
Department of Botany
Dayalbagh Educational Institute (Deemed University)
Dayalbah, Agra 282 005 (UP), India
Tel.: (0562) 280 1545
Teaching and Research Experience
Sant Tulsi Das Post Graduate College, Kadipur, Sultanpur as Assistant Professor in Botany (three months)
Fragrance and Flavour Development Centre, Kannauj as Consultant (three months)
CSIR-National Botanical Research Institute, Lucknow as Young Scientist, Research Associate (six years)
Dr Govind Prasad Rani Devi Patel Mahavidyalaya, Kanpur as Lecturer in Botany (three years)
Pratap Bahadur Postgraduate College, Pratapgarh, as Lecturer in Botany (two years)
Teaching Assignments
UG Classes: Botany Theory (BOH-101, BOH102), Gymnosperm and Paleobotany (BOM-303)
PG Classes : Plant Biodiversity (BOM-711, BOM-712)
Interfaculty courses (Undergraduate classes): Rural development and Agricultural Operations (RDC 191 /131 /151/181/161, RDC 192 /132 /152/182/162)
Area(s) of Research
Ethnobotany
Phytodiversity
Under-utilized plant genetic resources
Waste land and industrial wastes utilization
Research Interests
Medicinal and aromatic plants
Wild edible plants
Development of herbal products
Agrotechnology for non-traditional crops
Honors and Recognitions
Awards:
Research grant from SERB-DST Government of India, under Fast Track Scheme for Young Scientist
Fellow of Life Sciences leaflets
Membership of editorial board:
International Journal of Botany
Research Journal of Medicinal Plants
Asian Journal of Biological Sciences
Journal of Biological Sciences
Journal of Applied Sciences
Life Sciences Leaflets
Membership of Professional Bodies:
The Italo-Latin American Society of Ethnomedicine (SILAE)
The Blue Planet Society (Life member)
The Ethnobotanical Society (Secretary)
Reviewer of many Scientific Journals published by
Elsevier
Springer
Wiley Interscience
Biomed Central
Science Alert
NISCAIR etc.
Biography included in
A-Z in Ethnobotany (Dictionary of words and Who's Who in Indian Ethnobotany) edited by Jain and Jain 2013.
Marquis Who's Who in the World 2014
Project completed as Principal Investigator
Utilization of industrial wastes for cultivation of medicinal and aromatic plants in sodic soil, Funded by Science and Engineering Research Board, Department of Science and Technology, Government of India for the period 2013-2016. Total fund sanctioned was Rs. 26, 01,290.
Publication details
Research Papers 26
Books 2
Book chapter 1
Popular articles 2
Seminar, Symposia and Conferences 10
Selected Publications
Akhilesh Kumar* and Nandita Singh, 2014. First report of Maconellicoccus hirsutus Green infestation on Jatropha curcas saplings. Phytoparasitica 42(1): 71-73
Akhilesh Kumar*, Vimal Chandra Pandey, Anant Gopal Singh and Divya Darshan Tewari, 2013. Traditional uses of medicinal plants for dermatological healthcare management practices by the Tharu tribal community of Utter Pradesh India. Genetic Resources and Crop Evaluation 60:203–224.
Akhilesh Kumar,2013. Ethnobotanical study of wild vegetables used by rural communities of Kannauj district, Uttar Pradesh, India. Emirates Journal of Food and Agriculture. 25(10): 760-766
Akhilesh Kumar* and Nandita Singh, 2012. Jatropha gossypiifolia L: a potential genetic resource for herbal dye. Genetic Resources and Crop Evaluation. 59:949–954.
Akhilesh Kumar*, D D Tewari and J P Tewari, 2006. Ethnomedicinal knowledge among Tharu tribe of Devipatan division.Indian Journal of Tradition Knowledge5 (3) 310-313.