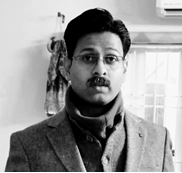 Dr. Prem Saran Tirumalai
Assistant Professor
Educational Qualification
-
M.Sc (Applied Microbiology), Ph.D (Molecular Microbiology)
CONTACT
Department of Botany
Dayalbagh Educational Institute (Deemed University)
Dayalbah, Agra 282 005 (UP), India
Tel.: (0562) 280 1545
Teaching Courses
General Microbiology
Microbial Quality Assurance
Dairy Microbiology
Quality & Safety Monitoring
Food safety & Regulatory Issues
Industrial Microbiology
Immunology
Quality Management Systems
Incharge, Food & Dairy Testing Lab(FDTL), Department of Botany, Dairy Campus, Dayalbagh Educational Institute.Have established the Microbiological wing, Wet Chemistry and Instrumentation wing of the FDTL
Recent Highlights
Training in Commisioning and Operation of Rapid Microbiological Enumeration and Detection System by Biomerieux – VIDAS & TEMPO, a Enzyme Immuno Assay based Rapid Detection System
Training in Commisioning and Operation of 'Extenso'(Unisensor), a Enzyme Immuno Assay based Rapid Detection System for Antibiotic Residue and Mycotoxins in Milk and Milk Products
Training in handling HeLa cells at National Institute of Material Science, Tsukuba, Japan
Projects Completed
Development of Mobile Milk Testing Unit – on the 'goMATA' (on the go Milk Adulteration Testing Assistance)
Research Collaborations
Dr.Anirban Bandyopadyay, National Institute of Material Science, Tsukuba, Japan
Dr.Seema Kashyap, Department of Home Science, Faculty of Arts, Dayalbagh Educational Institute
Prof.K.S.Daya, Department of Physics & Computer Science, Faculty of Science, Dayalbagh Educational Institute
Professional Experience
Research & Teaching
Principal Investigator of a research project under the Young Scientist Scheme of the Science & Engineering Research Board (SERB), Department of Science & Technology, Govt. of India. – 3 years
Head, Biotechnology & Dean, Training & Development (Dual Role) at the Uttam Group of Institutions (UGI), Runakta, Agra, UP, INDIA. – 1 year
Industry (2000 to 2008)
Unit Manager (Quality & Purchase), at Bikanervala Food Pvt Ltd (BFPL), Agra Region.
Consultant, Training & Audits, Sinar Jernih India Pvt Ltd –
Head (Asst. Manager), Quality Assurance, TajSATS Air Catering Ltd. New Delhi.
In-charge Operations, Multilabs & Microbiology Section (Dual Role), SGS India Pvt Ltd., Multilabs Division (3rd party testing facility), Gurgaon
Quality Assurance Executive & Regional Microbiologist, TajGVK Hotels, Hyderebad / TajSATS Air Catering Ltd., Delhi. Consecutive posting from Hyderabad to Delhi.
On going Consultancy
Honorary Consultant, The Hotel & Restaurant Facility Planner - https://sites.google.com/thrfp.com/thrfp/about
Research Profile
Research Interest
Molecular Diagnostics & Biosensing
Gut Microbiome
Microbial Ecology & Sociobiology of microbes, in particular of biofilm communities.
Presentations & Invited Talks
Possible applications of Nano-silver coatings in the food processing industry to control biofilms at the International Advanced Research Centre for Powder Metallurgy and New Materials (ARCI), Hyderabad, India. dated the 2nd February 2010.
Listeria monocytogenes J0161 responding to competition, as stress, in broth and biofilms with reference to gene expression pattern, 1st to 4th July 2012, the Annual Scientific Meeting and Exhibiton (ASM 2012) at the Brisbane Convention and Exhibition Centre, Brisbane, Australia.
Microarray Technology & Transcriptomics at Specturm Institute of Science & Technology, Colombo, SriLanka., dated the 11th

June 2015.

Mood Swings, Gut Microbes & Food Traditions, 5th to 11th June 2017, The Science of Consciousness (TSC2017) at San Diego, USA.
A Subject of Evolution - Homo spiritualis, 2nd to 7th April 2018, The Science of Consciousness (TSC2018) at Tucson, USA
Conferences & Workshops
IInd Annual Conference of Indian Association of Applied Microbiologists (Chennai, 2002)
Workshop on Food Microbiology, Science & Application (Hyderabad, 2004)
Annual Scientific Meeting of Australian Society for Microbiology (Brisbane, 2012)
Antimicrobial Workshop – Antimicrobial and Antifungal Resistance : Susceptible Testing – Supplementary and Molecular testing for Multi-Drug Resistance. (Brisbane, 2012).
The Science of Consciousness (TSC2017)(San Diego, USA, 2017)
The Science of Consciousness (TSC2018)(Tucson, USA, 2018)
Contributions to NCBI
Gene Expression Omnibus (GEO), NCBI Submission – 08 Microarray data of L.monocytogenes J0161 – Accession Number – GSE27936.
SRA on Transcriptome analysis, NCBI submission – 01 bio-project, 06 bio-samples of Bacillus subtilis & Bacillus licheniformis

. Bio-project ID-PRJNA336278
Selected Publications
Tirumalai, P. S.

, & Prakash, S. (2011). Expression of chitinase and chitin binding proteins(CBP's) by Listeria monocytogenes J0161 in biofilm and co-culture broths.

African J Microbiol

Res

,

5

, 5188-5193. doi:10.5897/AJMR11.929

Tirumalai, P. S., & Prakash, S. (2012). Antibiotic resistance in co-culture biofilm of Listeriamonocytogenes J0161. American. J. Microbiol, 3, 7-17.
Tirumalai, P. S., & Prakash, S. (2012). Expression of virulence genes by Listeria monocytogenesJ0161 in natural environment. Brazilian J of Microbiol, 43(2), 834-843. doi: 10.1590/S1517-83822012000200050.
Sharma, R., Daya, K.S, & Tirumalai, P. S. (2012). Light assisted in-vivo microwave sensing for electrical characterization of prokaryotes. Biophysical Reviews and Letters, 7 (03n04), 219-227. doi:10.1142/S1793048012500105.
Tirumalai, P. S. (2013). Listeriosis and Listeria monocytogenes in India.Wudpecker J FoodTechnol,1(6), 98-103.
Conference Proceedings
Oberoi, Sudhi, K. Soami Daya, and Prem Saran Tirumalai. "Microwave sensor for detection of E. coli in water." Sensing Technology (ICST), 2012 Sixth International Conference on Sensing Technology. IEEE, 2012.