Vocational Courses developed and prepared to professionally upgrade a student for starting their own Small Scale industry in Block Printing.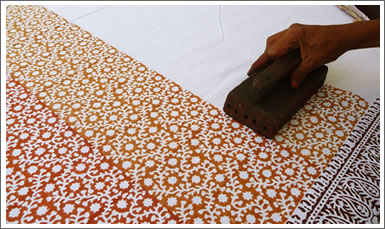 Block printing usually involves applying colour on one surface and pressing the colour to another. One can print onto all sorts of surfaces like paper or cloth. The type of colour you choose will depend on what you are printing. Most of the printing methods involve the use of a printing block, but there are many things, which will print just as they need no preparation. Blocks can be made from Wood, Leaf, Potato, Match sticks etc. may be used for printing to give endless variety of patterns. No prior knowledge is required for learning or practising the craft, just a wish to do something extraordinary, a positive attitude is what is required by the student and with a clear mind sky is the limit. A home craft in the beginning with a small investment of 1000/- can be turned into a small scale industry.
Modular Programme on Textiles
MODULE I
| | | |
| --- | --- | --- |
| Course Code | Course Title | No. Of Credits |
| MTP101 | Block Printing | 09 |
| MCC 141* | Cultural & Religion - I | 0.5 |
| MCC 142* | Social Service | 0.5 |
Module Title:Block Printing Course No.: MTP 101 Credits: 9

Unit 1

What is Fabric - Synthetic and Natural Fabrics

Unit 2

Historical Background of Block Printing

Unit 3

Block Printing of Different Types

Unit 4

Employment Opportunities

Unit 5

Different types of Dyes for Block Printing

Unit 6

Dyes affinity to Fabrics

Unit 7

Primary Secondary & Tertiary Colours

Unit 8

Preparing your own Colours

Unit 9

How to make designs for Block Printing

Unit 10

Understanding Placements

Unit 11

Tracing and Carving of Blocks

Unit 12

Treatment and Care of Blocks

Unit 13

Tools and equipment for Block printing

Unit 14

Usage of tools and equipment

Unit 15

Preparing the Printing Surface

Unit 16

Preparing pastes, dyes and Colours

Unit 17

Preparing Eco friendly Binder

Unit 18

Sampling different dyes & Materials

Unit 19

Treatment of fabric for printing

Unit 20

Learning to make corners

Unit 21

Learning to put registration marks

Unit 22

Single Colour Printing 1

Unit 23

Single Colour Printing 2

Unit 24

Double Colour Printing 1

Unit 25

Double Colour Printing 2

Unit 26

Multi Colour printing

Unit 27

Treatment of Fabric after Printing

Unit 28

Safety precautions

Unit 29

Doing value addition

Unit 30

Leaning Display Techniques
Course Number: MCC 141
Course Title: CULTURAL & RELIGION - I
Class: All Modular programmes
Status of Course: CORE, Approved since session: 2012-13
Total Credits:0.5, Min.pds./Module:8
UNIT 1
Culture and Civilization, Geographical background and Indian people, Culture and Civilization: Meaning and Significance, Characteristic features of Indian culture, Unity in Diversity
UNIT 2
Indian Culture, Cultural Background of the social organization, institutions, Varnashram System, Caste System and their modern form,
UNIT 3
Marriage and family, Education system and Institutions, Political Structure, Pre-Vedic period
UNIT 4
(a) Meaning of the word 'Dharm' and 'Religion' Importance and value of Religion in human life (b) Primitive Religious ideas and belief (c) Religion and Science: Faith and reason.
UNIT 5
(a) Pre-Vedic ideas of Indus Valley Civilization (b) The Vedic Religion (c) Hinduism (d) Modern Religious Movements.
Suggested Readings-
Institute Publication – Cultural Education
Institute Publication - Comparative Study of Religion
Course Number: MCC 142
Course Title: SOCIAL SERVICE
Class: All Certificate Level Courses
Status of course: Core, Approved from session: 2012-13
Total Credits: 0.5, Min. Pds./Module: 8
To do cleaning of campus in and around study center and work for all round development of society