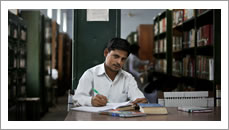 The Central Library was established in the 1984-85 session by merging the reading material of the Arts, Science, and Engineering faculties (until 2000-01) and afterwards the Social Science faculty.
The D. E. I. Libraries now have about 1.96 lac books on various subjects viz., Hindi, Sanskrit, English Language and Literature, Music, Drawing and Painting, Home Science, Arts and Crafts, Performing Arts, Religion and Theology, Economics, Management, Sociology, Political Science, Psychology, Mathematics, Physics and Computer Sciences, Chemistry, Botany, Zoology, Engineering, Education and Commerce etc. It is subscribing 120 journals of Indian and Foreign repute, along with magazines and newspapers for general reading. The library also houses rich reference Collection viz., Encyclopaedia Britannica, encyclopaedia Americana, Specific Subject Encyclopaedias, Year Books, Atlases and other reference material.
Central Library holdings also include dissertations, doctoral theses and project reports on various subjects. All thesis now available on Shodhganga Repository (INFLIBNET, UGC) in electronic form.
Central Library is equipped with computer terminals, Xerox machine, printers, KIOSK and PTC, TV for display to facilitate its users.

Besides these, the Library is also equipped with the latest e-journals by the e-ShodhSindhu Digital Library Consortium, accessible through campus-wide LAN. The library also provides printing, reprographic, scanning services and access to Internet as well as CD/DVD based electronic resources. Central Library also provides plagiarism detection.
At a glance...
| | |
| --- | --- |
| Working Hours | 8.30 hrs. (8.30 to 5.00 pm) |
| Total number of Books on 30 June 2018 | 1,96,519 |
| Total number of Journals | 120 (Indian – 30; Foreign – 90) |
| E-journals/Database/Packages | 04 |
| Total no. of Magazines | 10 |
| Total no. of News Papers | 12 |
| Books Ratio - per students | 28 Books per students approx. |
| Reading Room Facility | 10% of Students |
| Total Consultation per year | 1,99,410 |
| Reprographic Services | Available since 1986 |
| Scanning of Maps, Photo, Chart, Paintings, etc. | Available since 2010 |
| Printing of Downloaded Reading Material | Available since 2009 |
| Reference Services | Available since its existence |
| CAS Services | Available since 1990 |
| E-Journals Service | Available since January 2005 |