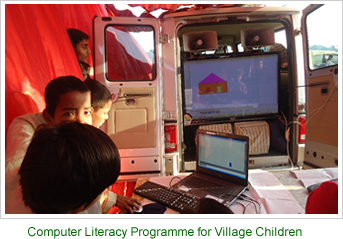 Another important activity taken up by NSS Unit is in the arena of Computer literacy through 'Hole in the Wall Experiment' which started on 27th June, 2010 under the supervision of Prof. Anand Mohan, Registrar, DEI and Dr. Vijay Kumar, Ex-Director, Jaslok Hospital, Mumbai. Place of Camp is Poiya Ghat Road, Dayalbagh, AGRA. The backdrop was setup by the medical camp which attracted a number of children from the adopted villages who used to visit the medical camp and stay over there all the time out of their curiosity and amusement. In order to help these children and utilize their visits to these medical camps 'Hole in the Wall Experiment' was started.
TEAM :
Prof. Pravin Saxena – NSS Coordinator
Dr. K. Srinivas – NSS Programme Officer
Dr. C. Vasantha Lakshmi
Dr. Vishal Sahani
Mrs. Soumya Srivastava
NSS Student Volunteers
PURPOSE OF 'HOLE IN THE WALL ' EXPERIMENT
The purpose of 'Hole in the Wall ' experiment is to spread computer literacy among the masses by providing them a facility with multimedia computers with big displays, speakers, and specially designed /selected computer applications and the right environment for rapid peer learning.
The facility with supervision and peer learning environment provides them a great opportunity to give up their hesitation or inhibition, quickly pick up computer skills and become conversant in basic Information and Communication Technology (ICT) skills.
'HOLE IN THE WALL EXPERIMENT' SETUP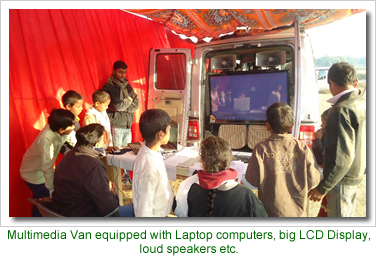 In 'Hole in the Wall Experiment' section a Multimedia Van equipped with Laptop computers, big LCD Display, loud speakers and a number of interesting multimedia edutainment applications are used.
OUR METHOD OF CONDUCTING HOLE IN THE WALL EXPERIMENT IS DIFFERENT AND EFFECTIVE
Our method of conducting Hole In The Wall Experiment is different and unique in the sense that we not only provide the infrastructure and environment but we also guide, monitor and track their progress by using a well designed and structured programmein a way to carefully builds their skills step-by-step.
THE PROGRAMME
The programme is designed to carefully teach them step-by-step the handling of mouse (proper positioning of the mouse pointer, clicking, drag and drop, etc.), Handling of keyboard and typing , Basics of operating system- utilities, launching and closing applications, shutdown procedure, multi-media controls, copying files to pen drive, etc. Then they are introduced to advanced topics.
Some of the interesting applications/topics used for the purpose include:
Interactive Multimedia edutainment applications
A number of Paint applications with some of them having menus commands in Hindi language
Mathematical puzzles, Memory puzzles, Sudoku, etc.
Interactive Pictionary, talking dictionary
Popular Hindi and English animated rhymes, songs and stories
A number of documentaries on a variety of topics including Health and hygiene, Environment, importance of education, National Awareness, General Knowledge, etc.
Microsoft Office (Word, PowerPoint and Excel)
Use of Internet - creating an email account and the use of email, web searching some important sites.
'HOLE IN THE WALL EXPERIMENT' STATISTICS
Presently about 450 children are registered with us in this programmeand in every camp about 50-60 children participate.

| | |
| --- | --- |
| GLIMPSES OF HOLE IN THE WALL | MEDIA COVERAGE |
| | |