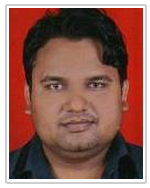 Dr. Santendra Kumar Soni
Assistant Professor
Educational Qualification - B.Sc., B.Sc. Hons.,M.Sc. (Botany), Ph. D. (Botany)
CONTACT
Department of Botany
Dayalbagh Educational Institute (Deemed University)
Dayalbah, Agra 282 005 (UP), India
Tel.: (0562) 280 1545
Email:
This email address is being protected from spambots. You need JavaScript enabled to view it.
Dr.S.K.Soni is Assistant Professor in Faculty of Science at Dayalbagh Educational Institute. He obtained Bachelor's degree in Botany in 2001, M.Sc. Botany in 2003 and Ph.D. in Phycology: Spirulina, Single cell Protein in 2009, all from Dayalbagh Educational Institute. His areas of teaching interests are Plant Taxonomy, Plant Anatomy, Algae and Lichens and Gymnosperms. His research interests are Bioremediation, biofuel and single cell protein.
He holds keen interest in the areas of conservation of plants, diversity, propagation of plants, Botanical Gardens.
Dr.S.K.Soni has supervised 01 Ph.D., 02 M.Phil and 12 M.Sc. works and Dr.Soni has experience of being the Programme Officer NSS, Faculty of Science; currently the Coordinator, Environmental Studies (University core course), In charge Botanical Garden, Faculty of Science.
He has thirteen research Papers, two books and two Book chapter.
Teaching Assignments
Courses Taught: Taxonomy, Phycology, Gymnosperm and Anatomy
Odd Semester :
ESC 191-Environmental Studies
BOM 103- Practical
BOM 501-Taxonomy of Angiosperms
BOM 505- Practical
BOW 101- Work Ex Course: Maintenance of Botanical Garden
BOM 701- Algae, Fungi and Plant Diseases
BOM 705-Practical
BOM 101-Algae and Lichens
Even Semester :
BOM 403 Plant Taxonomy
BOM 404 Practical
BOM 804 Plant Taxonomy
BOM 806 Practical
BOM 201 Work Ex. Course
Area(s) of Research: Phycology
Research Interests: Bioremediation and Third generation biofuel
Honors and Recognitions :
Awards/Prizes/Fellowships/Memberships of Editorial Boards etc.: First Prize By AMU, Aligarh for Slogan writing
Selected Publications
Paper
Vikas, S.K. Soni and S. Gupta (2018) Prospective of selected green algae pertain to Biofuel production Journal of Plant Development Sciences (An International Monthly Refereed Research Journal) Volume 10, Pg. 283-287.
YatiPrabha, ArtiTyagi and S.K.Soni (2016).Impact of Monosodium glutamate on the production and chemical constituents of Spirulina maxima.Int. J. Pure App. Biosci. 4 (1): 180-184. [SJIF = 4 & ISF= 1.2]
YatiPrabha, S.K.Soni, Sharmita Gupta and Sonal (2016). Potential of Algae in Bioremediation of Wastewater: Current Research. Int.J.Curr.Microbiol.App.Sc.5 (2): 693-700. [IF= 2.937]
YatiPrabha, S.K.Soni and NehaYadav (2016).Variations in cellular metabolites of Spirulina maxima Geitler cultivated under Semi arid climatic conditions of Agra. Journal of Agricultural Engineering and Food Technology Vol 3, Issue 1:28-30.
YatiPrabha, S.K.Soni and Chitransha Singh (2016).Potential of Spirulina maxima in the Bioremediation of waste water. International Journal of Research Volume 3, Issue 01:176-180 [ IF = 3.54]
YatiPrabha, S.K.Soni and NidhiBhadauriya (2015).Additional nutrients and techniques for outdoor mass cultivation of Spirulina maxima. International Journal of Life Science Biotechnology and Pharma Sciences Vol. 1,Issue 1:18-21.
S.K.Soni and Chetan Kumar Pankaj (2013).Isolation of Spirulina Species from diverse water bodies of Agra and its biochemical analysis.Advances in plant science 26(1) 7-8.
S.K.Soni, Kamal Agarwal, S.K.Srivastava.S.Gupta and Chetan Kumar Pankaj (2012).Growth performance and biochemical analysis of S. platensis under different climatic conditions. Journal of Algal Biomass Utilization 3(1):55-58.
S. Gupta, R.Sharma, S.K.Soni and Sakshi Sharma (2012). Biomass Utilization of waste water consortium for extraction of Algal oil. Journal of Algal Biomass Utilization 3(3):34-38
Soni, S.K., Srivastava, S.K. and Bhatnagar, V.P., (2007), Impact of different intensities of light on the growth of Spirulinaplatensis under semi arid climatic conditions of Agra. Advances in plant science, 20 (II) P.537-538.
S.K. Soni, S.K. Srivastava, A.K.Bhatnagar and V.P. Bhatnagar, DEI, (2006) Effect of agitation on the growth of performance of cyanobacteriumSpirulinaplatensisGeitler. Journal of Science and Engineering Research,13 (1&2)
Book
Mass Cultivation & Waste Water treatment using Spirulinaplatensis. Santendra Kumar Soni ,V.P.Bhatnagar , A.K.Bhatnagar, YatiPrabha and VibhuUpadhyay (2013).Lap-Lambert Academic Publishing, Germany. (Published)
S.K.Soni, V.P.Bhatnagar and Sharmita Gupta.Spirulina- Mass Cultivation and its medicinal & health aspects Published by Lap Lambert (2012)
Book Chapter:
BOOK TITLE: "Agricultural Biotechnology"
Chapter Title: Potential of Spirulina and Oscillatoria spp. for phycoremediation
Author: S.K.Soni and YatiPrabha
Year: 2018/ ISBN 978-81-7132-884-0
POINTER PUBLISHER, JAIPUR
Sonal, Sharmita Gupta, YatiPrabha and S.K. Soni, Published a chapter titled "Comparative analysis of phytochemicals of healthy and symptomatic Clerodendruminerme", in Advances in plant and microbial Biotechnology, 2019, 115-119