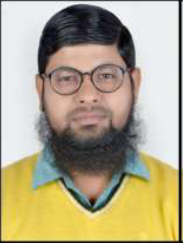 Dr. Akbar Ali
Assistant Professor
Educational Qualification: B.Sc. M.Sc, Ph.D (AMU), Post Doctorate (SERB-DST)
CONTACT:
Department of Botany,
Dayalbagh Educational Institute, Agra
Mob: +91- 9719684855
Area(s) of Research
Advanced Plant Physiology & Biochemistry
Research Interests
Biosynthesis of Secondary Metabolites
Mevalonic Acid Pathway
Mechanism of Radiation Processed Polysaccharides(RPPs)
Morphological, Physiological and Biochemical characterization of MAPs
List of completed and on-going projects:
Sl. No.

Title of project

Duration

Total cost

Funding Agency

Status

From

To

1

Proteome profile of Mentha piperita L. under the treatment of different fractions of gamma irradiated sodium alginate.

April 2016

March 2018

Rs. 19.20 Lakh

Science and Engineering Research Board-Department of Science and Technology, New Delhi

Completed

2.

Understanding the mechanism of action of gamma-irradiated sodium alginate oligomers in enhancing secondary metabolites in Mentha piperita L.

October 2021

Rs. 10.00 Lakh

University Grant Commission, New Delhi

Awarded

START-UP GRANT
RESEARCH GUIDING EXPERIENCE:
Ph.D. STUDENTS WORKING UNDER MY SUPERVISION:
Krishan Kant - Effect of selected plant growth regulators on the performance of Damask rose (Rosa damascena Mill.)
Navneet Kaur - Evaluation of the role of salicylic acid and calcium in improving drought stress tolerance in Curcuma longa L.
Shalu Gupta - Topic Not Decided yet
M.Sc. Projects Guided: 05 Students:
Hemlata (2019) – To investigate the photosynthetic efficiency in infected and non infected crop of mung bean (Vigna radiata L.)
Indu Saraswat (2020) - Study on some emerging plant hormones: A Review
Kiran Singh (2021) - Response of silicon nanoparticles on Andrographis panniculata (BURM. F.) NEES
Nandani Sharma (2021) - Effect of triacontanol on growth and yield attributes of Wedalia trilobata L.
Princy Tyagi (2021)- Role of triacontanol and silicon dioxide on nanoparticles on growth, biochemical and yield attributes of Curcuma longa L.
Teaching Assignments
Courses Taught:
| | |
| --- | --- |
| Odd Semester | Even Semester |
| AGB-101 | AGR-201 |
| AGB-102 | AGR-202 |
| VGT-104 | VGT-205 |
| VGT-302 | VGT-405 |
| ABS-501 | VGT-603 |
| ABS-505 | VAT-206 |
| BOM-503 | BOM-802 |
| BOM-505 | BOM805 |
| BOM-713 | BOM956 |
| BOM-715 | GPB -401 |
| BOM-908 | GPB -402 |
| BOM-956 | AGR-603 |
| ESC-191 | AGR-603 |
| GAMES | GAMES |
| | |
Honors and Recognitions:
Awarded UGC-BSR START-UP GRANT – 10 Lakh
Awarded Post Doctoral Fellowship by Science & Engineering Research Board (SERB), New Delhi
Major Research Project completed (SERB-DST)-19.2 Lakh
Project Fellow under the UGC-sponsored project
Best Poster Award, In: National Seminar on "Trends and Advances in Plant Sciences"
UGC Fellowship during PhD Course (February 16, 2010 –February 15, 2015)
Master of Philosophy (Botany) Entrance Topper in 2009 (Dr. B.R. Ambedkar University, Agra)
Workshops/Training Programmes:
Short Term training programme in the Aligarh Summer University Lectures on "Origin of Genetic Engineering" lecture proposed by Prof. Asad Ahmad, organized by Department of Botany, Aligarh Muslim University, Aligarh from October 5-8, 2011.
Scientific Manuscript Writing and References Management Workshop byDr. Manoj Sharma & Rita Sharma , organized by Department of Crop Physiology, University of Agricultural Sciences, Bangaluru and Indian Society for Plant Physiology, New Delhi from December 08-10, 2016.
One Day Online Workshop on "Enhancing Research Communication Skills through Science Direct and Mendeley". May 3rd , 2020 organized by the Internal Quality Assurance Cell (IQAC) and School of Education (SoE), Faculty of Education, Dayalbagh Educational Institute, Dayalbagh Agra.
One day online workshop on "Interactive Teaching and Experiential Learning using MATLAB and Simulink" delivered by MathWorks Expert. May 13, 2020 organized by the State Project Implementation Unit – Uttar Pradesh
One Day Online Training onHigh Performance Thin Layer Chromatography Instrumentation and Applications. May 22, 2020 Jointly organized byAnchrom Enterprises (I) Pvt. Ltd., MumbaiandUniversity of Rajasthan, Jaipur
One week Internationalonline training on Recent Physio-Molecular Digital Tools in Abiotic Stress Management for Crop Modeling organized by Centre for Advance Agricultural Science and Technology (CAAST), Centre of Excellence for Digital Farming Solutions for Enhancing Productivity By Robots, Drones and AGVs, VNMKV, Parbhani (MS) under National Agricultural Higher Education Project (NAHEP) of Indian Council of Agricultural Research (ICAR), New Delhi and World Bank during June 29 - July 3, 2020.
Training-cum-workshop"FDP - AMU Online Teachers Training" organized by Aligarh Muslim University, Aligarh from July 28-29, 2020.
UGC Sponsored Guru Dakshta "Orientation Programme/Faculty Induction Programme" organizedby University of Lucknow (HRDC) from November 02-29, 2020.
Participation in Exhibitions and Industrial Meets:
One day meet under Indo-Japan Joint Trilateral Collaboration (Aquatec Co. Ltd., Japan, New Era Research Foundation, Agra and Biolink Overseas Co. Agra (U.P.) on "Application of Water Ceramic Technology for Inorganic Surface Reinforcement for building Materials" organized on April 14, 2015 at Amar Hotel, Agra.
Invited Lecture/Talk:
Water-Pollution Control Of Yamuna River By Using Aquatic Macrophytes - A Feasible Management ProposalIn: National Seminar on Yamuna Water Pollution and Its Control Measures , March 30-31, 2014, R.B.S. College, Agra
Demonstration of Soil Sampling Method and Analysis of Macronutrients in soil, In: St. John's College, Agra, October 2015.
Simple Talks – 11 (an eco-educational talk series) Webinar on Biodiversity, Agriculture and Communities organized by CGBMT-School of Simple Living & Department of Botany, DEI, August 7, 2020
Publication Details:
Research Papers:
Nadeem Hashmi, M. Masroor A. Khan, Moinuddin, Mohd Idrees, Zeba H. Khan, Akbar Ali, Lalit Varshney(2012)Depolymerised carrageenan ameliorates growth, physiological attributes, essential oil yield and active constituents of Foeniculum vulgare Mill. Carbohydrate Polymers 90: 407– 412 IF = 5.16 ISSN: 0144-8617, e-ISSN Number: 18791344, UGC .NO. : 5035
Akbar Ali,M. Masroor A. Khan, Moin Uddin, M. Naeem, Mohd Idrees, Nadeem Hashmi, Tariq Ahmad Dar, and Lalit Varshney (2014) Radiolytically Depolymerised Sodium Alginate Improves Physiological Activities, Yield Attributes and Composition of Essential Oil of Eucalyptus citriodora Hook. Carbohydrate Polymers 112: 134–144 IF= 5.16 ISSN: 0144-8617 e-ISSN: 18791344, UGC SR.NO. : 5035
Moinuddin,Tariq Ahmad Dar, Sajad Hussain, Mohammad Idrees, M. Masroor Akhtar Khan, Mohammad Naeem and Akbar Ali (2014) Use of N and P biofertilizers together with phosphorus fertilizer Improves growth and physiological attributes of chickpea.In: Global Science Research Journals "Global Journal of Agriculture and Agricultural Sciences " 2:168–174 ISSN: 2408-6886
Mohd. Idrees, Tariq A. Dar, M. Naeem, Tariq Aftab, M. Masroor A. Khan, Akbar Ali, Moin Uddin, and Lalit Varshney (2015) Effects of gamma-irradiated sodium alginate on lemongrass: field trials monitoring production of essential oil. Industrial Crops and Products 63:269 –275 IF = 3.85 ISSN: 0926-6690 e-ISSN: 1872633X, UGC.NO. : 20968
Tariq Ahmad Dar, Moin Uddin, M. Masroor A. Khan, Akbar Ali, Nadeem Hashmi and Mohd Idrees (2015) Cumulative effect of gibberellic acid and phosphorus on crop productivity, biochemical activities and trigonelline production in Trigonella foenum-graecum L. Cogent Food & Agriculture 1: 995950 http://dx.doi.org/10.1080/23311932.2014.995950ISSN: 2331-1932
Tariq Ahmad Dar, Moin Uddin, M. Masroor A. Khan, Akbar Ali, Sohail Rasool Mir and Lalit Varshney (2015) Effect of Co-60 gamma irradiated chitosan and phosphorus fertilizer on growth, yield and trigonelline content of Trigonella foenum-graecum L. Journal of Radiation Research and Applied Sciences 8:446 –458 ISSN: 1687-8507, UGC .NO. : 42989
M. Naeem, Tariq Aftab, Abid A. Ansari, Mohd Idrees, Akbar Ali, M. Masroor A. Khan, Moin Uddin and Lalit Varshney (2015) Radiolytically degraded sodium alginate enhances plant growth, physiological activities and alkaloids production in Catharanthus roseus L. Journal of Radiation Research and Applied Sciences 8: 606 –616 ISSN: 1687-8507, UGC .NO. : 42989
Tariq Ahmad Dar, Moin Uddin, M. Masroor A. Khan, Akbar Ali and Lalit Varshney (2016) Modulation of alkaloid content, growth and productivity of Trigonella foenum-graecum L. using irradiated sodium alginate in combination with soil applied phosphorus. Journal of Applied Research on Medicinal and Aromatic Plants 3: 200-210 ISSN: 2214-7861, UGC .NO. : 21439
M. Naeem, Tariq Aftab, Mohd. Idrees, Minu Singh, Akbar Ali, M. Masroor A. Khan, Moin Uddin and Lalit Varshney (2017) Modulation of physiological activities, active constituents and essential oil production of Mentha arvensis L. by concomitant application of depolymerised carrageenan, triacontanol and 28-homobrassinolide. Journal of Essential Oil Research 29:179–188 IF = 1.007 ISSN: 1041-2905, e-ISSN: 21638152, UGC. NO. : 7443
Akbar Ali, M. Masroor A. Khan, M. Naeem, Lalit Varshney and Prem Kumar Dantu (2018) Pre-Sowing Seed Treatment of Radiolytically Depolymerized Sodium Alginate Improves Seed Germination of Eucalyptus Citriodora Hook. International Journal of Natural Sciences and Research 01:46–68
Teg Bahadur Singh, Vikram Sahai, Akbar Ali, Mrinalini Prasad, Arti Yadav, Preksha Shrivastav, Deepika Goyal and Prem Kumar Dantu (2020) Screening and evaluation of PGPR strains having multiple PGPtraits from hilly terrain. Journal of Applied Biology & Biotechnology 08:38-44 ISSN Online: 2347-212X, ISSN Print: 2455-7005
Teg Bahadur Singh, Vikram Sahai, Deepika Goyal, Mrinalini Prasad, Arti Yadav, Preksha Shrivastav, Akbar Ali and Prem Kumar Dantu (2020) Identiication, Characterization and Evaluation of Multifaceted Traits of Plant Growth Promoting Rhizobacteria from Soil for Sustainable Approach to Agriculture. Current Microbiology https://doi.org/10.1007/s00284-020-02165-2 IF = 1.610 Electronic ISSN 1432-0991 , Print ISSN 0343-8651
Farhad Alam, Akbar Ali, Abid Ali Ansari, M Naeem, Tariq Aftab, M Masroor A Khan (2020) Employing silicon nanoparticles and GA3 in enhancing the productivity and biochemical attributes of sweet-leaf plant (Stevia rebaudiana Bert.) International Journal of Botany Studies 05: 383-387 ISSN: 2455-541X
Akbar Ali, M Masroor A Khan M Naeem Abid Ali Ansari (2021) Pre-sowing seed treatment of carrageenan oligomers promotes seed germination of Eucalyptus citriodora Hook. International Journal of Botany Studies 06: 938-943 ISSN: 2455-541X
Book Chapters Published:
Akbar Ali(2012). The Potential Medicinal Aspects of Eucalyptus Genus In: "Conservation, Cultivation and Sustainable Utilization of Medicinal and Herbal Plants (Edit by, Dr. K.P.Singh) S.R. Scientific Publications, Agra, India. PP 61-67, ISBN 978-8188805-29-7
Tariq Ahmad Dar, Moinuddin, Nadeem Hashmi, Mohd Idrees and Akbar Ali (2013). Recent Trends in Jasmonate Signaling Pathway In: "Plant signaling: Understanding the molecular crosstalk" (Eds, Khalid RH, Reiaz R and Inayatullah T.) Springer New Delhi Heidelberg New York Dordrecht London. PP 277. ISBN 978-81-322-1541-7
Mohd. Idrees, Israr Ul Hassan, M Naeem, Akbar Ali, Tariq Aftab and M Masrror A Khan (2017) The Accumulation and Degradation of Alkaloides in Catharanthus roseus supported by various external Agemts under different environmental conditions In: Catharanthus roseus - Current Research and Future Prospects. M. Naeem, Tariq Aftab, M. Masroor A. Khan (Eds), Springer International Publishing AG, Switzerland. PP 321-330, ISBN 978-3-319-51620-2
Asfia Shabbir, Akbar Ali, Yawar Sadiq, Hassan Jaleel, Bilal Ahmad, M Naeem, M Masroor A Khan and Moinuddin (2017) Unraveling the cumulative effect of soil applied radiation-processed sodium alginate and polyacrylamide on growth attributes, physiological activities and alkaloids production in Periwinkle [catharanthus roseus (l.) G.Don] In: Catharanthus roseus - Current Research and Future Prospects. M. Naeem, Tariq Aftab, M. Masroor A. Khan (Eds), Springer International Publishing AG, Switzerland. PP 365-382, ISBN 978-3-319-51620-2
Akbar Ali,M. Masroor A. Khan, M Naeem, M Idrees, TA Dar, Moinuddin, PK Dantu and TB Singh (2017). Nutrient uptake, removal and cycling in Eucalyptus species. In: Essential Plant Nutrients: Uptake, Use Efficiency and Management. Naeem, M, Ansari AA, Gill SS (Eds.). Springer International Publishing AG, Switzerland. PP 37-46, ISBN 978-3-319-58840-7
Tariq Ahmad Dar, Moin Uddin, Akbar Ali, M. Masroor A. Khan, and Tanvir ul Hassan Dar (2017). Understanding the dynamics of phosphorus starvation and plant growth. In: Essential Plant Nutrients: Uptake, Use Efficiency and Management. Naeem, M, Ansari AA, Gill SS (Eds.). Springer International Publishing AG, Switzerland. PP 147-154, ISBN 978-3-319-58840-7
M. Naeem, AA Ansari, Tariq Aftab, M. Idrees, Akbar Ali, M. Masroor A. Khan (2017). Regulatory role of mineral nutrients in nurturing of medicinal legumes under salt stress. In: Essential Plant Nutrients: Uptake, Use Efficiency, and Management. Naeem, M, Ansari AA, Gill SS (Eds.). Springer International Publishing AG, Switzerland. PP 309-334, ISBN 978-3-319-58840-7
Preksha Shrivastav, Mrinalini Prasad, Teg Bahadur Singh, Arti Yadav, Deepika Goyal, Akbar Ali and Prem Kumar Dantu (2020). Role of Nutrients in Plant Growth and Development. In: Contaminants in Agriculture: Sources, Impacts and Management. Naeem, M, Ansari AA, Gill SS (Eds.). Springer International Publishing AG, Switzerland. PP 43-60 , ISBN 978-3-030-41551-8
Teg Bahadur Singh, Akbar Ali, Mrinalini Prasad, Arti Yadav, Preksha Shrivastav, Deepika Goyal and Prem Kumar Dantu (2020). Role of Organic Fertilizers in Improving Soil Fertility. In: Contaminants in Agriculture: Sources, Impacts and Management. Naeem, M, Ansari AA, Gill SS (Eds.). Springer International Publishing AG, Switzerland. PP 61-78 , ISBN 978-3-030-41551-8
Deepika Goyal, Arti Yadav, Mrinalini Prasad, Teg Bahadur Singh, Preksha Shrivastav, Akbar Ali, Prem Kumar Dantu and Sushma Mishra (2020). Effect of Heavy Metals on Plant Growth: An Overview In: Contaminants in Agriculture: Sources, Impacts and Management. Naeem, M, Ansari AA, Gill SS (Eds.). Springer International Publishing AG, Switzerland. PP 361-384 , ISBN 978-3-030-41551-8
Mrinalini Prasad, Rajiv Ranjan, Akbar Ali, Deepika Goyal, Arti Yadav, Teg Bahadur Singh, Preksha Shrivastav and Prem Kumar Dantu (2020). Efficient Transformation of Agricultural Waste in India. In: Contaminants in Agriculture: Sources, Impacts and Management. Naeem, M, Ansari AA, Gill SS (Eds.). Springer International Publishing AG, Switzerland. PP 271-288 , ISBN 978-3-030-41551-8
Arti Yadav, Deepika Goyal, Mrinalini Prasad, Teg Bahadur Singh, Preksha Shrivastav, Akbar Ali and Prem Kumar Dantu (2020). Bioremediation of Toxic Pollutants: Features, Strategies, and Applications. In: Contaminants in Agriculture: Sources, Impacts and Management. Naeem, M, Ansari AA, Gill SS (Eds.). Springer International Publishing AG, Switzerland. PP 361-384 , ISBN 978-3-030-41551-8
Akbar Ali, M. Naeem , M. Idrees , Tariq Aftab , M. Masroor A. Khan , and Prem Kumar Dantu (2021). Effect of presowing treatment of Co-60 gamma-irradiated chitosan on seed germination and seedling vigor in Eucalyptus citriodora Hook. In: Radiation-Processed Polysaccharides-Emerging Roles in Agriculture, Naeem, M, Aftab T, Khan MMA (Eds.). Academic Press an imprint of Elsevier, USA. PP 321-335, ISBN: 978-0-323-85672-0
Abstract Presented/Poster in Conferences / Symposia / Seminars:
Akbar Ali,M. Masroor A. Khan, Mohd Idrees, M. Naeem, Masidur Alam, Nadeem Hashmi, Moinuddin and Lalit Varshney (2012). Promotive effect of gamma irradiated sodium alginateon seed germination ofEucalyptus (Eucalyptus citriodora Hook.)In: National Seminar on Conservation, Cultivation and Sustainable Utilization of Medicinal and Herbal Plants, February 25-26, 2012, R.B.S. College, Agra
Akbar Ali, M. Masroor A. Khan, Mohd Idrees, M. Naeem, Masidur Alam, Nadeem Hashmi, Moinuddin and Lalit Varshney (2012). Promotive effect of gamma irradiated chitosan on seed germination ofEucalyptus (Eucalyptus citriodora Hook.) In: National Symposium on "Plant Cell, Tissue and Organ Culture: Emerging Trends". March 10-11, 2012, AMU, Aligarh
Akbar Ali,M. Masroor A. Khan, Mohd Idrees, M. Naeem, Masidur Alam, Nadeem Hashmi, Moinuddin and Lalit Varshney (2012). Effect of gamma irradiated carrageenan of pre-sowing treatment on seed germination and seedling vigour in Eucalyptus citriodora, a high value medicinal plant. In: National Seminar on Medicinal Plants Research In India, March 16-17, 2012, Jamia Hamdard, New Delhi
Tariq A. Dar, Moinuddin, M. Masroor A. Khan, Akbar Ali, Nadeem Hashmi and Masidur Alam (2012). Effect of levels of gibberellic acid and phosphorus on growth, enzymatic activities and yield of fenugreek (Trigonella foenum-graecum L.) In: National Seminar Of Plant Physiology on "Physiological And Molecular Approaches For Development Of Climate Resilient Crops". December 12-14, 2012, Department of Crop Physiology, College of Agriculture, Acharya N G Ranga Agricultural University, Rajendranagar, Hyderabad
Tariq Ahmad Dar, Moin Uddin, M. Masroor A. Khan, Akbar Aliand Nadeem Hashmi (2013). Application of irradiated sodium alginate alone and in combination with phosphorus enhances growth, enzymatic activities and yield of fenugreek (Trigonella foenum-graecum L.) In: National Seminar on "Trends and Advances in Plant Sciences". September 21-22, 2013, Department of Botany, Aligarh Muslim University, Aligarh
Moinuddin, S. Hussain, M. M. A. Khan, M. Naeem, M. Idrees, N. Hashmi, A. Ali,T. A. Dar and F. Rasheed (2013). Graded Levels of Phosphorus Applied with N and P Biofertilizers Improve Growth and Physiological Attributes of Chickpea (Cicer arietinum L.)In: National Seminar on "Trends and Advances in Plant Sciences". September 21-22, 2013, Department of Botany, Aligarh Muslim University, Aligarh
Moinuddin, S. Hussain, M. M. A. Khan, M. Naeem, M. Idrees, N. Hashmi, A. Ali,T. A. Dar and F. Rasheed (2013). Use of N and P biofertilizers reduces inorganic phosphorus application and increases nutrient uptake, yield and seed quality of chickpea (Cicer arietinum L.)In: National Seminar on "Trends and Advances in Plant Sciences". September 21-22, 2013, Department of Botany, Aligarh Muslim University, Aligarh
M. Masroor. A. Khan, Akbar Ali,Farhad Alam, Tariq A. Dar, M. Naeem and Moinuddin (2013). GA3 and Silicon Nano-particles increase the productivity of sweet-leaf plant (Stevia rebaudiana Bert.)In: National Seminar on "Trends and Advances in Plant Sciences". September 21-22, 2013, Department of Botany, Aligarh Muslim University, Aligarh
Daraksha Khanam, Firoz Mohammad, M. Masroor. A. Khan, Zeba h. Khan and Akbar Ali,(2013). Effect of kinetin and polyacrylamide application on the performance of Palmarosa (Cymbopogon martini (Roxb.) wats.)In: National Seminar on "Trends and Advances in Plant Sciences". September 21-22, 2013, Department of Botany, Aligarh Muslim University, Aligarh
M. Masroor. A. Khan, Amina Firdaus, Firoz Mohammad, Akbar Ali,M. Masidur Alam, M. Naeem and Moinuddin (2013). Methyl jasmonate and silicon Nanoparticles Enhance the Growth Attributes, Biochemical and Physiological Parameters and production of Alkaloids in Periwinkle (Catharanthus roseus (L.) G. Don)In: National Seminar on "Trends and Advances in Plant Sciences". September 21-22, 2013, Department of Botany, Aligarh Muslim University, Aligarh
Asfia shabbir, Firoz Mohammad, M. Masroor. A. Khan, Akbar Ali,M. Masidur Alam, M. Naeem, Moinuddin and Lalit Varshney (2013). Augmenting Growth, Biochemical and Physiological attributes and Alkaloid production in Periwinkle (Catharanthus roseus (L.) G. Don) through Soil-applied Radiation Processed Sodium Alginate and polyacrylamide In: National Seminar on "Trends and Advances in Plant Sciences". September 21-22, 2013, Department of Botany, Aligarh Muslim University, Aligarh
M. Masroor A. Khan, Akbar Ali,Mohd Moinuddin and Lalit Varshney (2014)Improving Yield and the Composition of Essential Oil of Eucalyptus citriodora Hook. Employing Radiation Processed Sodium Alginate.In: National Symposium on "Recent Advances in Free Radical Biology and Biochemistry" March 6, 2014, Department of Biochemistry, Aligarh Muslim University, Aligarh
M. Masroor A. Khan, Farhad Alam, Akbar Ali,Tariq A. Dar, M. Naeem and Moin Uddin (2014)Employing Silicon Nano-Particles and GA3 in Increasing the Productivity of Sweet-Leaf Plant (Stevia rebaudiana Bert.) - A Sugar Substitute In: 'ALIGARH NANO-IV International 2014' an International Conference on Nanoscience and Nanotechnology. March 08-10, 2014, Department of Applied Physics, Aligarh Muslim University, Aligarh
Akbar Ali,M. Masroor A. Khan, Moin Uddin Mohd Idrees and M. Naeem (2014). Water-Pollution Control Of Yamuna River By Using Aquatic Macrophytes - A Feasible Management ProposalIn: National Seminar on Yamuna Water Pollution and Its Control Measures , March 30-31, 2014, R.B.S. College, Agra
M. Masroor A. Khan, Moinuddin, Bilal Bhat, Akbar Aliand Lalit Varshney (2014). Radiation processed chitosan and gibberellic acid improve growth, biochemical characteristics and the content and composition of essential oil in Mentha piperita L. The 29th International Horticultural Congress-2014, August 15-22, 2014, Brisbane, Australia.
Tariq Ahmad Dar, Moin Uddin, M. Masroor A. Khan, Akbar Ali, Faisal Rasheed and Suhail Rasool Mir (2014) Application of irradiated chitosan alone and in combination with phosphorus enhances physiological activities, trigonelline content and yield of fenugreek (Trigonella foenum-graecum L). 37th All India Conference of The Indian Botanical Society November 07-09, 2014 organised by V.G.Vaze College, Mumbai, India
M. Naeem, M. Masroor A. Khan, Tariq Aftab, Akbar Aliand Moin Uddin(2015). Modulation of physiological activities, active constituents and essential oil production of Mentha arvensis L. using depolymerised Carrageenan, Triacontanol and 28- Homobrassinolide.In: International conference on Environment and Ecology (ICEE). March 02-05, 2015, Science city, Kolkata
Akbar Ali,M. Masroor A. Khan, M. Naeem and Moinuddin (2015). Use of Irradiated sewage sludge in Agriculture.In: National Seminar on New Frontiers in Organic Farming for Sustainable Development of Indian Agriculture. March 14-15, 2015, Department of Botany, R.B.S. College, Agra
Asfia Shabbir, M. Masroor A. Khan and Akbar Ali(2015). Augmenting growth, biochemical and physiological attributes and essential oil production of Vetiveria zizanoides (L.) Nash by amending soil with polyacrylamide (PAM).In: National Seminar on New Frontiers in Organic Farming for Sustainable Development of Indian Agriculture. March 14-15, 2015, Department of Botany, R.B.S. College, Agra
Moin Uddin, M. Masroor A. Khan, Akbar Ali,Faisal Rasheed, Tariq Ahmad Dar, Tariq Aftab, M. Naeem, Mohd Idrees, and Suhail Rasool Mir (2015). Gamma-irradiated Sodium Alginate mediates changes in growth, physiological activities and alkaloid production of Catharanthus roseus (L.) G. DonIn: International conference on Medicinal Plants: Resource for affordable new generation healthcare, March 20-22, 2015, CSIR-Central Institute of Medicinal and Aromatic Plants, Lucknow
Hassan Jaleel, M. Masroor A. Khan, Nadeem Hashmi, Akbar Ali,Mu. Naeem and Lalit Varshney. Radiation processed Sodium Alginate ameliorates physiological and biochemical activities and essential oil production in Mentha arvensis L. (2015).In: International conference on Medicinal Plants: Resource for affordable new generation healthcare, March 20-22, 2015, CSIR-Central Institute of Medicinal and Aromatic Plants, Lucknow
Arshiya Akeel,Akbar Ali andM. Masroor A. Khan (2015). Use of irradiated Carrageenan, a marine polysachharide, in enhancing the alkaloid production in Catharanthus roseus(L.) G. Don In: International conference on Medicinal Plants: Resource for affordable new generation healthcare, March 20-22, 2015, CSIR-Central Institute of Medicinal and Aromatic Plants, Lucknow
Akbar Ali,M. Masroor A. Khan, Moin Uddin, M. Naeem, Minu Singh and Lalit Varshney (2015). Ameliorating yield and the composition of essential oil of Eucalyptus citriodora Hook. Using radiolytically depolymerised Carrageenan. In: International conference on Medicinal Plants: Resource for affordable new generation healthcare, March 20-22, 2015, CSIR-Central Institute of Medicinal and Aromatic Plants, Lucknow
Tariq Ahmad Dar, Moin Uddin, M. Masroor A. Khan, Akbar Ali,Suhail Rasool Mir and Faisal Rasheed (2015). Foliar application of kinetin applied with phosphorus enhances the vegetative growth, biochemical attributes and trigonelline content of Trigonella foenum-graecum L. In: International conference on Medicinal Plants: Resource for affordable new generation healthcare, March 20-22, 2015, CSIR-Central Institute of Medicinal and Aromatic Plants, Lucknow.
Akbar Ali,Prem Kumar Dantu, M. Masroor A. Khan, M. Naeem, Moin Uddin and Lalit Varshney (2016).Radiation Processed Carrageenan Enhances Essential Oil Yield and the Active constituents of Eucalyptus citriodora Hook. In: National Conference of Plant Physiology-2016: Challenges in crop Physiology Research: from Molecular to Whole Plant, December 08-10, 2016, organized by Department of Crop Physiology, University of Agricultural Sciences, Bangaluru and Indian Society for Plant Physiology, New Delhi
Akbar Ali,Prem Kumar Dantu and Teg Bhadur Singh (2017). Role of Agricultural Biotechnology for Rural Development: An Ultimate Approach. In: National Seminar on Role of Biotechnology in Sustainable Agriculture and Rural Development. March 04-05, 2017, Department of Botany, R.B.S. College, Agra
Akbar Ali, Prem Kumar Dantu, M. Masroor A. Khan & M. Naeem (2019). Effect of Gamma Irradiated Sodium Alginate on Essential Oil Content, Yield and Composition of Mentha piperita L. In: National Conference on Bioprospecting and Bioactive Compounds from Microbes and Plants March 28-29, 2019, Department of Botany, DEI, Agra
Conference/Symposia / Seminars:Attended
National Symposium on "Current Trends in Biochemical, Biomedical and Environmental Sciences". February 22, 2011, AMU, Aligarh
National Seminar on "Conservation, Cultivation and Utilization of Medicinal Plants". February 26-27, 2011, R.B.S. College, Agra
National Seminar on "Conservation, Cultivation and Sustainable Utilization of Medicinal and Herbal Plants". February 25-26, 2012, R.B.S. College, Agra
National Symposium on "Plant Cell, Tissue and Organ Culture: Emerging Trends". March 10-11, 2012, AMU, Aligarh
National Seminar on "Trends and Advances in Plant Sciences". September 21-22, 2013 Department of Botany, Aligarh Muslim University, Aligarh
National Seminar on "Yamuna Water Pollution and Its Control Measures". March 30-31, 2014, R.B.S. College, Agra
International conference on "Environment and Ecology" (ICEE). March 02-05, 2015, Science city, Kolkata
National Seminar on "New Frontiers in Organic Farming for Sustainable Development of Indian Agriculture". March 14-15, 2015, Department of Botany, R.B.S. College, Agra
National Conference of Plant Physiology-2016: Challenges in crop Physiology Research: from Molecular to Whole Plant, December 08-10, 2016, organized by Department of Crop Physiology, University of Agricultural Sciences, Bangaluru & Indian Society for Plant Physiology, New Delhi
National Seminar on "Role of Biotechnology in Sustainable Agriculture and Rural Development". March 04-05, 2017, Department of Botany, R.B.S. College, Agra
National Conference on Bioprospecting and Bioactive Compounds from Microbes and Plants. March 28-29, 2019, Department of Botany, DEI, Agra
National Conference on Waste Nothing- A circular Economy Perspective. December 20-21, 2019, Department of USIC, DEI, Agra
One day webinar on Climate, Health and Sustainability. June 04, 2020, Department of chemistry, DEI, Agra
National Conference on Bioprospecting and bioactive compounds from microbes and plants. March 24, 2021, Department of Botany, DEI, Agra