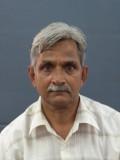 Mr. N. Hazur Saran
Administrative Assistant
Educational Qualification: Cheif Electrical (Radio) in Indian Navy, Specialization Communication Equipment from Russia; Leadership & Management Course from Indian Navy, Associate IETE.
CONTACT
Dayalbagh Educational Institute, (Deemed University)
Dayalbagh, Agra 282 005, (UP) India
Tel: (0562) 280 1545; 645 0724; 941 146 2497
Email: This email address is being protected from spambots. You need JavaScript enabled to view it.
Mr. Hazur Saran has worked in Faculty of Engineering of DEI as Demonstrator in Electronics and has joined the Distance Education Cell after superannuation on honorary basis. Prior to joining DEI Faculty of Engineering, he has served the Indian Navy. He has received the 1971 Indo-Pak War Medals of Poorvi Chakra and Long Service Medal while with Indian Navy.