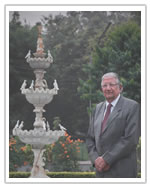 Prof. V.B. Gupta
Coordinator
Educational Qualification: Graduateship of Plastics Institute (Grad PI), London; Ph.D. (Fibre/Polymer Physics), Bristol Univ., U.K.
CONTACT
Dayalbagh Educational Institute, (Deemed University)
Dayalbagh, Agra 282 005, (UP) India
Tel: (0562) 280 1545, 645 0724
Email: This email address is being protected from spambots. You need JavaScript enabled to view it.
Prof. V. B. Gupta holds Graduateship of Plastics Institute (London) and Ph.D. in Fibre / Polymer Physics from Bristol. Retired as Head of Department of Textile Technology, IIT Delhi, he has a very rich teaching experience spanning more than 35 years of Educational Administration.
Prof. Gupta's teaching interests have been Textile Fibres: Their structure and properties. he has taught courses on Textile Fibres, Fibre Science, Manufacture of Fibres, Clothing Science, Testing of Polymers and textiles. His areas of research interest have been Structure-Property relationship in Fibres and Polymers, Production of Man-made Fibres, Structure and Properties of Composite materials, and Dyeability of Textiles and Fibres.
Prof. Gupta had also served in the capacity of Dean - PG Studies, UG Studies and also as Dean of Students during his tenure at IIT Delhi. He also enjoyed the positions of Chairman, Research Advisory Committee at CIRCOT, Mumbai / BTRA, Mumbai; as Member of Research Advisory Committee at National Chemical Laboratory (Pune), Indian Petro Chemicals Limited (Vadodara), Ahmedabad Textile Industries Research Association (Ahmedabad), MANTRA (Surat), Wool Research Institute of ICAR (Jaipur), Jute Research Instutute (Kolkata). He also served as member on the editorial board of Indian Journal of Fibre & Textile Research, CSIR. Prof. Gupta had also been a Member of the Governing Body of Regional Engineering College, Hamirpur. He was awarded a medal in 1984 at the International Metallography Exhibition in USA.
Prof. Gupta has supervised several Ph.D. Theses and has 125 research publications in various refereed research journals of International and National repute, and 75 publications in conference proceedings. He has authored 3 books and 10 review articles including 4 invited chapters.
As the Coordinator for Distance Education Programme of the Institute since 2006, Prof. Gupta has been involved in the launching of several Certificate and UG level programmes in distance education mode, spawning over around 73 study centres in India and overseas.