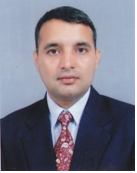 Dr. Ashok Jangid
Assistant Professor
Educational Qualification -
M.Sc., Ph.D.
Contact
Department of Physics & Computer Science
Dayalbagh Educational Institute(Deemed
to be
University)
Dayalbagh, Agra 282 005(UP) India
Email: This email address is being protected from spambots. You need JavaScript enabled to view it.
1. Teaching Assignments:
Odd Semester:
PHM 502, B.Sc (Hons.) Classical Physics

PHM 702, M.Sc, Statistical Physics

PHM 705, M.Sc, Mathematical Physics

PHM 182, Applied Physics Lab-I
Even Semister:
PHM 281, B.Tech, Applied Physics

PHM 282, Applied Physics Lab-II

PHM602, B.Sc (Hons.), Spectroscopy
2. Area(s) of Research:
Microwave Microstrip Devices

Atmospheric Physics

Applied Soft-computing
3. Research Interests
Optical properties of aerosol

Effect of aerosol on radiative forcing

Application of soft-computing in analysis and design of microstrip devices.
4. Honors and Recognitions
IASc-INSA-NASI Summer Research Fellowship in 2014, for two months during this summer in Indian Institute of Science, Bangalore.

Best research paper award in international conference on microwaves, antenna, propagation & remote sensing,( ICMARS - 2012) 11th - 15th December, 2012 Jodhpur - (India)

Case reward of Rs. 20000.00 from ITM University, Gurgaon, for research and lab related initiatives and student welfare activities for the academic year 2009-2010.

UGC Start UP",PI in Start-Up grant for newly recruited faculty, Project Title: Analysis and Design of Tunable Microwave Microstrip Structures", Total grant: 6.00 Lakhs, Funding Agency:UGC.

ARFI Project of ISRO-GBP " Co-PI in R& D project under aersol radaitive forcing over India of ISRO, Total grant till 2017 March : 51.00 Lakhs, Funding Agency:Indian Space Research Organisation (ISRO)
5. Selected Publications
Effects of thermal radiation and magnetic field on unsteady stretching permeable sheet in presence of free stream velocity, P Singh, A Jangid, NS Tomer, D Sinha, International Journal of Information and Mathematical Sciences 6 (3), 63-69.

Discharge modelling using adaptive neuro-fuzzy inference system, DCS Bisht, A Jangid, International Journal of Advanced Science and Technology 31, 99-114.

Magnetically tunable microstrip linear resonator on polycrystalline ferrite substrate, R Pourush, A Jangid, GS Tyagi, GP Srivastava, PKS Pourush, Microwave and Optical Technology Letters 49 (11), 2868-2870
Characterization of black carbon in the ambient air of Agra, India: Seasonal variation and meteorological influence, P Gupta, SP Singh, A Jangid, R Kumar, Advances in Atmospheric Sciences 34 (9), 1082-1094
Efficient Computation of Resonant Frequency of Rectangular Microstrip Antenna using a Neural Network Model with Two Stage Training, GP Jangid, GMS Srivastava, A Jangid, International Journal of Computer Science Issues 10 (5), 209-214