Department of Footwear Technology
Head of the Department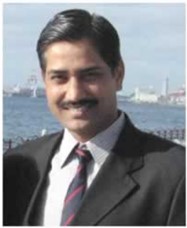 Prof. Devendra Kumar Chaturvedi
Professor
(HOD , Footwear technology)
Educational Qualification - B.E., M.Tech. (Engg. Systems and Management, Ph.D., Post Doc. (Univ. of Calgary, Canada)
Area of Specialization - Smart EVA shoes, Orthopaedics Shoes, AI in footwear industry, Soft Computing, Modeling and Simulation of systems, Human Consciousness,.
CONTACT:
Department of Footwear Technology
Faculty of Engineering
Dayalbagh Educational Institute (Deemed to be University)
Dayalbagh, Agra 282 005 (UP), India
Tel: +91-9456-433-788
Email:dkc.foe.gmail.com, This email address is being protected from spambots. You need JavaScript enabled to view it.
Dr. D.K. Chaturvedi, joined Faculty of Engineering, D.E.I., Dayalbagh, Agra, in 1989 as Lecturer, and became Professor in 2005. He did his B.E. from Govt. Engineering College Ujjain, M.P., followed by M.Tech. and Ph.D. from D.E.I., Dayalbagh, in 1993 and 1998 respectively. He is gold medallist and received Young Scientists BOYSCAST Fellowship from DST, Government of India in 2001-2002 for post doctorial research at Univ. of Calgary, Canada. He is a Fellow of the Institution of Engineers (India), Fellow - Aeronautical Society of India, Fellow –Institution of Electronics and Telecommunication Engineering, Sr. Member IEEE, USA, member IEE, U.K. and Member of many National and International professional bodies such as JILTA, Kolkata, ISTE, Delhi, , ISCE, Roorkee, IIIE, Mumbai, SSI, etc. In recognition of his contribution in his field of specialization, The Institution of Engineers (India), Kolkata, has conferred many awards upon him, including, among others, the Tata Rao Medal Award, U.P. State Power Sector Award, Mossaudi Lal Award, etc. The ADRDE, a research lab of DRDO working in the field of Aerial Delivery, has conferred upon him a Life Time Achievement Award for his valuable contributions in the field of Aeronautics. He is a consultant of DRDO. The Ministry of Environment and Forests, Government of India, New Delhi, has given a letter of appreciation to Prof. D.K. Chaturvedi for his work in improvement of working conditions of people in glass industry at Firozabad. His name is included in Marquis Who's Who in Engineering and Science in Asia – 2006-2007, Marquis Who's Who in Engineering and Science in America 2006-07 and Marquis Who's Who in World – 2006-2007. He has completed many R&D projects of MHRD, UGC, AICTE, etc. in addition to consultancy projects of DRDO. He has contributed to the National Mission of ICT of Govt. of India as Virtual Power Lab Developer.
Prof. Chaturvedi has authored three books and 55 contributed chapters. He has published more than 500 research papers in international and national peer reviewed journals, transactions and conferences. He had 1 Indian patent published and four filed. Presently He is Professor in Electrical Engineering, Head of the Department of Footwear Technology, Training and Placement Officer of D.E.I. and Chief Advisor, IEI Students' Chapter.
About the Department:
The Department of Footwear Technology supports Under-Graduate, Post-Graduate and Doctoral Programmes. At the UG and PG levels a broad-based course structure enables the students to acquire core competence and specialization in the fields of Shoe Designing, Ergonomics of Shoes, Orthopaedic Footwear, Footwear production, testing, fabrication, packaging and marketing. Agra, especially Dayalbagh, has deep roots in the leather and footwear sector. Dayalbagh, as an institution, has been offering a certificate course in Leather and Footwear Technology since 1927. Diploma in Leather and Footwear Technology was started in 2004, and in 2014 a B.Tech. program in Footwear Technology was introduced. The Department of Footwear Technology has strong collaborations with many local, national and international renowned footwear industries. State-of-the-art computer aided footwear design lab and a full-fledged E.V.A shoes and chappal manufacturing plant have been established in the Footwear Technology department.
An innovative and unique interdisciplinary M.Tech. Programme in "Engineering Systems" is jointly offered for Electrical, Mechanical, Civil Engineering, footwear and aerospace engineers. The programme is designed to inculcate in the students the 'Systems' way of thinking. Development of such a systemic viewpoint enriches the mindset of the students to address real life problems in a holistic manner.
At the research level, the department has a prominent presence in the following diverse fields of Engineering: Intelligent Manufacturing Systems, Bio-Medical Engineering, Supply Chain Management, Decision Support Systems, Artificial engineering and machine learning, Computer aided engineering. The Department focuses on earn while learn scheme for students under which low cost EVA shoes and Chappals are manufactured. The department is gradually moving towards the intelligent walking technology.