Department of Mechanical Engineering
Head of the Department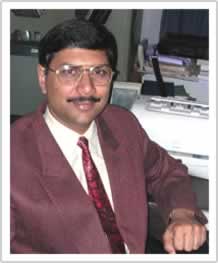 Prof. K. Hans Raj, F.I.E.,FISPE, FAeSI, FISAM
Professor & Head of Department, Chairman ISAM-USA
Educational Qualification - B.Sc. (Engg.) (Mechanical Engg.), M. E., Ph. D.
Area of Specialization - Intelligent Manufacturing, Finite Element Methods, Metal Forming, Soft Computing, CAD
Field of Expertise : Intelligent and Agile Manufacturing
Teaching and Research Experience at D.E.I. in years: 33Yrs.
(Professor: 2008 onwards; Associate Professor: 1999-08; Asst. Professor: 1986-99)
NUMBER OF AWARDS /PRIZES /CERTIFICATES /HONOURS CONFERRED: 50
About the Department:
The Department supports Under-Graduate, Post-Graduate and Doctoral Programmes. At the UG and PG levels a broad-based course structure enables the students to acquire core competence and specialization in the fields of Production Engineering, Industrial Engineering, Thermal Engineering, and Design Engineering by way of core courses, electives, and focused projects. The excellent performance of the students in competitive examinations including the GATE , CAT, GRE etc is a strong pointer to the quality of the broad-based education imparted.
An innovative and unique M. Tech. Programme in "Engineering Systems" is jointly conducted with the Electrical Engineering Department. The programme is designed to inculcate in the students the 'Systems' way of thinking. Development of such a systemic viewpoint enriches the mindset of the students to address real life problems in a holistic manner.
At the research level, the department has a prominent presence in the following diverse fields of Mechanical Engineering: Intelligent Manufacturing Systems, Energy Systems, Bio-Medical Engineering, Supply Chain Management, Decision Support Systems.
Details of R & D Projects Completed and Ongoing
Click to view the list of R&D Projects in Mechanical Engineering Department
Collaboration in Research and Training
Click to view the list of Collaborations in Mechanical Engineering Department.