Department of Mechanical Engineering
Head of the Department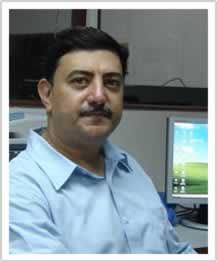 Dr. Rahul Caprihan
Professor & Head of Department,
Educational Qualification -B.Sc.(Engg.) (Mechanical Engg.), M. E.(Production & Industrial Engg.),Ph.D..
Area of Specialization - Industrial & Production Engineering
Field of Expertise : Intelligent and Agile Manufacturing
CONTACT -
Department of Mechanical Engineering
Faculty of Engineering
Dayalbagh Educational Institute (Deemed University)
Agra 282 005 (UP), India
Tel: 0562-6548399
Email: This email address is being protected from spambots. You need JavaScript enabled to view it. Teaching and Research Experience at D.E.I. in years: 33Yrs.
Professor Caprihan has been a BOYSCAST Visiting Scholar to the University of Michigan's Ross Business School, Ann Arbor, USA from 1998 through 1999, a Visiting Researcher at the School of Engineering and Technology, Asian Institute of Technology, Bangkok, Thailand in 2006, has twice been a Visiting Professor at the Lean Operations Research Centre at the University of Groningen, The Netherlands, from January through July in 2009, and then again from May through June, 2010. He was a Visiting Professor at the HAN University of Applied Sciences, The Netherlands from May through June, 2014, and then again from May through June, 2018.
Professor Caprihan is the Coordinator of the DEI Entrepreneurship Virtual Incubation Cell at DEI. He spearheaded the Training & Placement initiatives in the Faculty of Engineering, DEI, from 2004 till 2015; he was the Coordinator of the Cooperative Education (Co-op) Program at DEI from its inception in 2013 to 2020,.

Professor Caprihan is a Fellow of the Institution of Engineers (India).
About the Department:
The Department supports Under-Graduate, Post-Graduate and Doctoral Programmes. At the UG and PG levels a broad-based course structure enables the students to acquire core competence and specialization in the fields of Production Engineering, Industrial Engineering, Thermal Engineering, and Design Engineering by way of core courses, electives, and focused projects. The excellent performance of the students in competitive examinations including the GATE , CAT, GRE etc is a strong pointer to the quality of the broad-based education imparted.
An innovative and unique M. Tech. Programme in "Engineering Systems" is jointly conducted with the Electrical Engineering Department. The programme is designed to inculcate in the students the 'Systems' way of thinking. Development of such a systemic viewpoint enriches the mindset of the students to address real life problems in a holistic manner.
At the research level, the department has a prominent presence in the following diverse fields of Mechanical Engineering: Intelligent Manufacturing Systems, Energy Systems, Bio-Medical Engineering, Supply Chain Management, Decision Support Systems.
Details of R & D Projects Completed and Ongoing
Click to view the list of R&D Projects in Mechanical Engineering Department
Collaboration in Research and Training
Click to view the list of Collaborations in Mechanical Engineering Department.