A number of state-of-the-art computer systems are available in the Faculty which are distributed in the following facilities and serve as a computing facility for U G, PG and Research students :
CAD Cell : Equipped with state-of-the-art Pentium 4 computer systems & software packages. Simulation Software packages include Siman / Cinema, Arena 9.0, SLAMSYSTEM, PC Model, CADMotion, PREACTOR, OptQuest etc.
Advanced Computing Lab (DST FIST Assisted): Equipped with state-of-the-art P 4 computer systems and software packages (such as FPGA Advantage, TANNER Tools, Multisim) for design & simulation of VLSI circuits.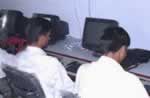 Soft Computing Lab: The Faculty attained considerable depth in Soft Computing research. Several Ph.D. theses, M. Tech. dissertations, R & D Projects and International Journal publications bear testimony to this. The lab provides necessary infrastructure for these endeavors.
Image Processing Facility: Research on Content-based Image Recognition, and state-of-the-art facility for Video Acquisition and Processing towards content generation for Distance Education Programme of the Institute.
The other distributed Computing Facilities (outside of the Faculty Engineering) which are available to the students of the Faculty include:
DEI Computer Centre
Neural Network Lab
Department of Mathematics Computer Lab
Multi-Media Lab
VLSI Lab