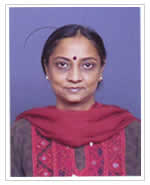 Prof. Shalini Nigam
Professor
Educational Qualification - M.Com., and Ph.D. from Delhi University, Diploma in Management from I.G.N.O.U.
CONTACT
Dep. of Management, FOSS, D.E.I.
Founder member of Management program in D.E.I., Expert Panel Member in Curriculum Revision Committee at the Department of Management, D.E.I.
Cultural Coordinator, Faculty of Social Sciences, Chairperson - Alumni Interaction Cell and Coordinator- Annual Alumni Meet 'MILAN' (Management Interaction for Learning, Assisting, Generation Next), Editor - CONEXNS, a Bi-annual News letter published by Management Alumni of D.E.I. and Member, MHRD Network.
Research interests are in the areas of human resource practices, knowledge management, business models, quality of working life, intuitive consciousness, wisdom economy and work-life balance.
Published more than 25 research papers and articles in the journals of national and international repute. She has also presented more than 14 papers at various conferences and seminars at international level.