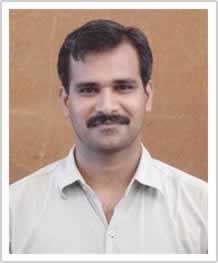 Prof. G. S. Sailesh Babu
Educational Qualification
- B.Sc. (Engg.) (Electrical Engg.), M. Tech. (Engineering Systems), Ph.D.
Area of Specialization
- Electronics, Power Systems and Soft Computing
Department of Electrical Engineering
Dayalbagh Educational Institute (
Deemed to be University
)
Dayalbagh, AGRA - 282005
(UP), India
Tel: 0562-6548399
Email: This email address is being protected from spambots. You need JavaScript enabled to view it.
Teaching Assignments
B.Tech Courses:
EEM 301-Basic Electronics
EEM 501-Linear Control Engineering
EEM 505-Analog Electronics
GKC 581-Sc. Meth.,Gen.Kn. & Current Affairs-II
EEM 601-Microprocessors And Microcontrollers
EEM 603-Power Systems – I
EEM 604-Applied Systems Engineering
EEM 712-Digital Design
EEM 803-Seminars
EEM 302-Basic Electronics Lab
EEM 502-Control Engg. Lab.
EEM 602-Microprocessors Lab.
EEM 704-Computer Tech. Lab.
EEM 705-Electrical Engg. Project
EEM 802-Electrical Engg. Project II
EGC 581-Design Engg. & Theme Development Project
EDC 681-Design Engg. & Theme Development Project
M.Tech Courses:
PEE 101-Applied Systems Engg.
PEE 111-Microprocessors Based System Design
PEE 300-Major Project Part I
PEE 322-Self-Study Course
PEE 422-Self Study Course
PEE 400-Major Project Part II
Area(s) of Research:
Quantum Evolutionary Algorithms, Power Systems optimization, Renewable Energy Systems.
Research Interests:.
Quantum Evolutionary Algorithms
Domain Specific heuristics
Unit commitment and Optimal Power Flow
Integration of Renewable Energy systems
Honors and Recognitions
Certificate of merit for year 2002from Institution of Engineers for paper titled "Simulated annealing variants for solution of economic load dispatch"
Best Paper Awardfor paper "Novel Quantum Evolutionary Algorithm based Approach for Solution of Multi-Objective Load Dispatch Problem" in XXXI National Systems Conference, 14 - 15 December, 2007, Paper 82
Selected Publications
Journal Publications
| | | | | | | |
| --- | --- | --- | --- | --- | --- | --- |
| S.No. | Author(s) | Title | Name of Journal | Volume | Page | Year |
| 1 | G.S.Sailesh Babu, D.Bhagwan Das, C. Patvardhan | Simulated annealing variants for solution of economic load dispatch | IE(I) Journal-EL | Vol. 83 | 222-229. | Dec 2002 |
| 2 | G.S.Sailesh Babu, D.Bhagwan Das, C. Patvardhan | Real-parameter quantum evolutionary algorithm for economic load dispatch | IET Generation Transmission and Distribution | vol.2 no.1 | 22-31 | 2008 |
List of Publications in Conferences:
S.No.

Title with page nos.

Details of Conference Publication

1

Economic Load Dispatch with transmission loss consideration using simulated annealing variants

G.S. Sailesh Babu, D. Bhagwan Das, C. Patvardhan

Proceedings of National Seminar on Emerging Convergent Technologies and Systems, SECTAS-2002

2

Simulated Annealing variants for economic Load dispatch in Power Systems

G.S. Sailesh Babu, D. Bhagwan Das, C. Patvardhan

Proceedings of National Seminar on Soft Computing and its Enggineering Applications, Jodhpur, February, 2002

3

A hybrid stochastic search approach for unit commitment with hard reserve constraints

G.S. Sailesh Babu, D. Bhagwan Das, C. Patvardhan

Proceedings of IEEE Power India conference, New Delhi, March 2006.

4

Novel Real-parameter Quantum Evolutionary Algorithm for Economic Load Dispatch

G.S. Sailesh Babu, D. Bhagwan Das, C. Patvardhan

National Systems Conference, 2006, Goa, November, 2006

5

Hybrid Stochastic Search Approach for solution of Unit Commitment Problem , pp. 180-199

G.S. Sailesh Babu, D. Bhagwan Das, C. Patvardhan

Proceedings of the 3rd Indian International Conference on Artificial Intelligence, Pune, India, December 17-19, 2007. IICAI 2007,

6

Novel Quantum Evolutionary Algorithm based Approach for Solution of Multi-Objective Load Dispatch Problem

G.S. Sailesh Babu, D. Bhagwan Das, C. Patvardhan

XXXI National Systems Conference, 14 – 15 December, 2007,Manipal

7

Dynamic Economic Dispatch solution using Enhanced Real Quantum Evolutionary Algorithms

G.S. Sailesh Babu, D. Bhagwan Das, C. Patvardhan

Proceedings IEEE Power India conference, New Delhi, September 2008.

8

Quantum Evolutionary Algorithm Solution of Real Valued Function Optimization : Reactive Power Dispatch Example

G.S. Sailesh Babu, D. Bhagwan Das, C. Patvardhan

National Systems Conference 2008, Roorkee

9

Hybrid Stochastic Search based Technique for solution of Dynamic Dispatch Problem

G.S. Sailesh Babu, D. Bhagwan Das, C. Patvardhan

National Systems Conference 2008, Roorkee

10

Solution of real-parameter optimization problems using novel Quantum Evolutionary Algorithm with applications in power dispatch, pp 1920-1927

G.S. Sailesh Babu, D. Bhagwan Das, C. Patvardhan

IEEE Congress on Evolutionary Computation, September, CEC 2009, Trondheim

11

Novel heuristics for handling Inter-temporal constraints in Dynamic Economic Dispatch and Unit Commitment problems

G.S. Sailesh Babu, D. Bhagwan Das, C. Patvardhan

International Conference on Applied Systems Research 2009, DEI

12

FPGA Implementation Of A Novel Harmonic Detection Technique For Single Phase System

G.S. Sailesh Babu, D. Bhagwan Das, C. Patvardhan

International Conference on Applied Systems Research 2009, DEI

13

Unmanned Package Delivery System

Ankit Yadav, Parman Josan, G.S. Sailesh Babu

Communicated to National Systems Conference, 2017, DEI

14

A Study of Biogas Generation from Kitchen Waste & Cow dung

Ravindra Bhardwaj, A.K.Saxena, G.S.Sailesh Babu

Communicated to National Systems Conference, 2017, DEI
Books and Book Chapters
S.No

Title

Publisher

1

Applied Systems Engineering and Soft Computing

Editor of Proceedings

Allied Publishers Pvt. Ltd.

ISBN : 81-7764-015-1, 2000

2

Emerging Convergent Technologies and Systems

Editor of Proceedings

Allied Publishers Pvt. Ltd.

ISBN : 81-7764-280-4, 2002

3

Quantum Evolutionary Algorithms for Unit Commitment and OPF

Author

Lap Lambart Academic Publishing

ISBN : 978-3-659-94875-6, 2016