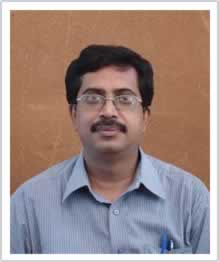 Prof. C. Patvardhan
Educational Qualification -
B. Sc. (Engg.) (Mechanical Engg.), M. E. (Com. Sc.), Ph.D.
Area of Specialization -
Soft Computing, Quantum Computing and Image Processing
CONTACT-
Department of Electrical Engineering
Dayalbagh Educational Institute (Deemed University)
Dayalbagh, Agra 282 005
(UP), India
Tel: 0562-6548399
Email: This email address is being protected from spambots. You need JavaScript enabled to view it.
Prof. Patvardhan, is a Professor in Electrical Engineering Department with more than 22 years of experience in teaching and research. He is currently the Coordinator of the MTech Programme in Faculty of Engineering. He teaches Data Structures and C Programming, Design and Analysis of Algorithms, Image Processing, Computer Architecture, Computer Networks, Operating Systems, Quantum Computing etc. His research interests include Quantum and Quantum-inspired Algorithms, Image Processing, Intelligent Information Processing, Evolutionary Algorithms etc. He has guided 5 PhDs and several PG Dissertations. He is an author / co-author of more than 250 research papers, one book and a co-editor of two Conference Proceedings. He has completed several R&D projects. He has been a training Consultant to Cadence Design Systems (2003 – 08) and Atrenta Communications. He is also currently providing Consultancy to Cadence Design Systems on Advanced Algorithms. He has an ongoing collaboration with CAU, Kiel, Germany and was invited for collaborative research work to Kiel in 2001, 2008, 2009 and 2010. He was invited to participate in the I Indo-German Round Table on Discrete Algorithms in Bonn in June, 2010. He also visited INRIA, Sophia Antipolis, France and gave two talks in June, 2010. Professor Patvardhan has won more than 20 Best Presentation / Best Paper awards. Some of these are "Production Engineering Division Medals" of Institution of Engineers (India) for 1999 & 2000 and coveted "Institution medal" of Institution of Engineers (India) for the year 2001, Certificate of Merit of Institution of Engineers for 2003 and other Best paper/presentation awards in several conferences. He is a life member of several professional bodies including SSI, CSI and Fellow United Writers Association of India. He is on panel of experts of UPSC and PRSGs of Ministry of Communications and Information Technology. He was a member of the Consortium on OCR for Indian Languages created by Rediff.