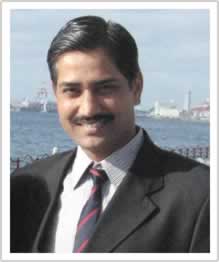 Prof. Devendra Kumar Chaturvedi
Educational Qualification -
B.E. (Electrical Engg.), M.Tech. (Engg. Systems and Management, Ph.D., Post Doc. (Univ. of
Calgary)
Area of Specialization -
Soft Computing, Power and Energy Systems, Electrical Machines, Solar Energy, Modeling and Simulation of systems, Human Consciousnesss
CONTACT-
Department of Electrical Engineering
Dayalbagh Educational Institute (Deemed University)
Dayalbagh, Agra 282 005
(UP), India
Tel: 0562-6548399
Email:dkc.foe.gmail.com, This email address is being protected from spambots. You need JavaScript enabled to view it.
Dr. D.K. Chaturvedi, is working in Dept. of Electrical Engineering, Faculty of Engineering, D.E.I., Dayalbagh, Agra since 1989. He did his B.E. from Govt. Engineering College Ujjain, M.P. then he did his M.Tech. and Ph.D. from D.E.I. Dayalbagh in 1993 and 1998 respectively. He is gold medallist and received Young Scientists BOYSCAST Fellowship from DST, Government of India in 2001-2002 for post doctorial research at Univ. of Calgary, Canada. He is the
Fellow
-The Institution of Engineers (India),
Fellow
- Aeronautical Society of India,
Fellow
–Institution of Electronics and Telecommunication Engineering, Sr. Member IEEE, USA and Member of many National and International professional bodies such as IET, U.K., ISTE, Delhi, , ISCE, Roorkee, IIIE, Mumbai and SSI etc. The Institution of Engineers (India), Kolkata, recognized his work and conferred many award like Best Paper Award, Tata Rao Medal Award, U.P. State Power Sector Award and Mossaudi Lal Award etc. ADRDE lab of DRDO conferred him life time achievement award for his valuable contributions in field of aeronautics. He is the consultant of DRDO. The Ministry of Environment and Forrest, Government of India, New Delhi has given a letter of appreciation to Prof. D.K. Chaturvedi for guiding the best M.Tech. project. His name is included in Marquis Who's Who in Engineering and Science in Asia – 2006-2007, Marquis Who's Who in Engineering and Science in America 2006-07 and Marquis Who's Who in World – 2006-2007. He did many R&D projects of MHRD, UGC, AICTE etc. and consultancy projects of DRDO. He contributed in the national mission of ICT of Govt. of India as Virtual Power Lab Developer.
He has authored three books and 25 contributed chapter. He wrote more than 300 research papers in international and national peer reviewed journals, transactions and conferences. Presently He is Professor in Electrical Engineering and additional load of Head of Dept. of Footwear Technology, Faculty Training and Placement officer, D.E.I. and Advisor, IEI Students' Chapter (Elect. Engg.), Incharge, Electrical Engineering Lab.
Teaching Assignments
Odd Semester :
EEM 303 Elect. Measurement
EEM 304 Electrical Measurement Lab
EEM507 – Electrical Technology
EEM701 Electrical Power System- II
EEM702 Electrical Power System – II Lab
PME 301 Consciouness, Ethics and moral Values
PEE 101 Applied Systems Engineering
Even Semester :
EEM201 Basic Electrical Engineering
EEM201 Basic Electrical Engineering Lab
EEM 603 Control Systems
EEm 604 Control Systems Lab
EEM 603 Machine Design
EEM802 Utilization of Elect. Power and Traction
PEE216 Fuzzy System and its Applications
PEE201 Modeling and Simulation of Systems
PEE202 Modeling and Simulation of Systems Lab
Selected Publications
Chaturvedi, D.K., Malik OP & Kalra PK, "Experimental Studies of Generalized Neuron Based Power System Stabilizer", IEEE Trans. On Power systems, Vol. 19(3): 1445-1453, August 2004
Chaturvedi, D.K., & Malik OP, "A Generalized Neuron Based Adaptive Power System Stabilizer for Multimachine Environment", IEEE Trans. on Power Systems, Vol. 20(1): 358- 366, Feb 2005
Chaturvedi D K, Forecastingof Solar Power using Quantum GA – GNN,International Journal of Computer Applications128(3):15-19, October 2015. Published by Foundation of Computer Science (FCS), NY, USA.
Richa, Devendra Kumar Chaturvedi, Soam Prakash, The consciousness in Mosquito,Journal of Mosquito research, 2016, Vol. 6, No. 34 pp. 1-9, ISSN 1927-646X.
Richa, Devendra Kumar Chaturvedi, Soam Prakash, Role of Electric and Magnetic Energy Emission in Intra and Interspecies Interaction in Microbes, American Journal of Research Communication, 2016: Vol 4(12), pp. 1-22, ISSN: 2325-4076.