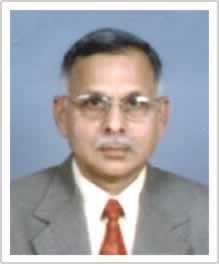 Prof. Dayal Saran Mishra
Educational Qualification -
B.Sc. (Engg.) (Mechanical Engineering), M.Tech., Ph.D.
Area of Specialization -
Heat Transfer, Soft Computing, Systems Engineering, Energy Management
CONTACT-
Department of Mechanical Engineering
Dayalbagh Educational Institute (
Deemed to be University
)
Tel. - 0562-6548399
Email - This email address is being protected from spambots. You need JavaScript enabled to view it.
Professor D. S. Mishra is a distinguished professor in Mechanical Engineering with an experience of more than 41 years in research and 36 years in teaching. He teaches Heat Transfer, Fluid Mechanics, Fluid Machines, Graphics Science and Energy Systems Management.His research interests include Heat Transfer, Soft Computing, Systems Engineering and Energy Management. He has authored several research papers which have been published in a number of international and national journals. He has carried out a number of research projects funded by prestigious agencies such as UGC, MHRD, AICTE, DST and USSR Academy of Science. He has co-authored along with Dr. S. K. Gaur and Rev. Prof. P. S. Satsangi Sahab, a chapter titled " Bioinformatics and Evolutionary System Modeling Approach Towards Building Wisdom Based System for Sustainable Development" in the book Green Chemistry edited by Dr. M. M. Srivastava and published by Narosa Publisher, New Delhi. He has also co-authored along with Dr. S. K. Gaur and Rev. Prof. P. S. Satsangi Sahab, two chapters titled "Design of Alternative Integrated Policies for Indian Industries and their Fuzzy Priority ranking" and "Integrated Descriptive Normative Industrial Policy for India: A Hierarchical Structuring" in the book "Public Policy Analysis and Design" edited by V.K. Agnihotri Administrative Staff College Deheradun, and published by Concept Publishing House, New Delhi, in 1995. He has won several awards which include Best NSS Coordinator at UP State Level (1995-96), Best NSS Coordinator at National Level (1997-98) and INSA – COASTED Travel Grant (1983), slected under Indo-USSR Cultural Exchange programme. He has visited several universities and research institutions across the globe (France, UK, Germany, Austria, Russia, Ukraine, Belorussia etc.) and did collaborative reasearch and delivered several invited lectures/talks. He is also a life member of several professional bodies including SSI and Continuing Engineering Education.