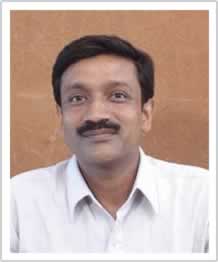 Mr. Ram Chand Gupta
Educational Qualification -
B.Sc. (Engg.) (Mechanical Engg.), M. Tech.
Area of Specialization -
Thermal Engineering, Automobile Engineering
CONTACT-
Department of Mechanical Engineering
Dayalbagh Educational Institute (Deemed
to be
University)
Dayalbagh, Agra 282 005
(UP), India
Tel: 0562-6548399
Email: This email address is being protected from spambots. You need JavaScript enabled to view it.
Mr. Ram C. Gupta graduated from Faculty of Engineering, DEI in 1990 and has joined M/s Telco (now Tata Motors, India) as a Graduate Engineer Trainee. In this duration, he worked at Jamshedpur works and Bangalore Regional Office as a Service Engineer. His work included Maintenance and upkeep of construction and Earth Moving equipment. He joined Department of Mechanical Engineering as Teaching Assistant in 1992 and he is presently serving as an Assistant Professor. He has almost two decades of experience in teaching various mechanical engineering courses, guiding major and minor projects. He teaches courses related to Refrigeration, Automobile Engineering, Mechanical Engineering Drawing. His research interests include Alternate fuels, Energy Systems. He published 3 papers in national and international conferences and completed 2 research projects on Bio-fuels. One project on Solar PV driven vehicle is ongoing. He is presently deputed to DEI ICT DE Centre at Timarni since July 2009, where he is responsible for examinations and related administration of Diploma Course of the Institute.